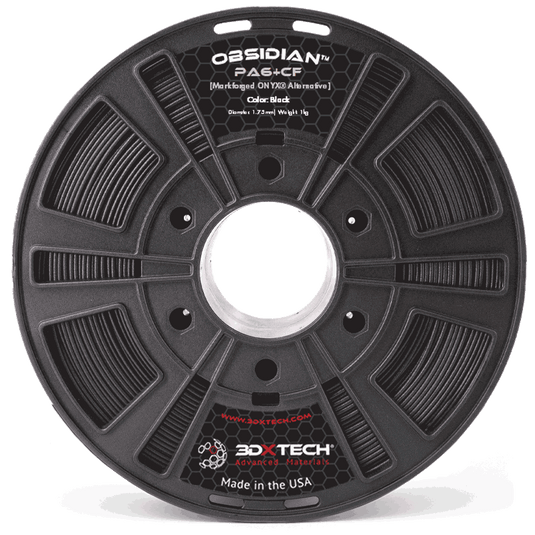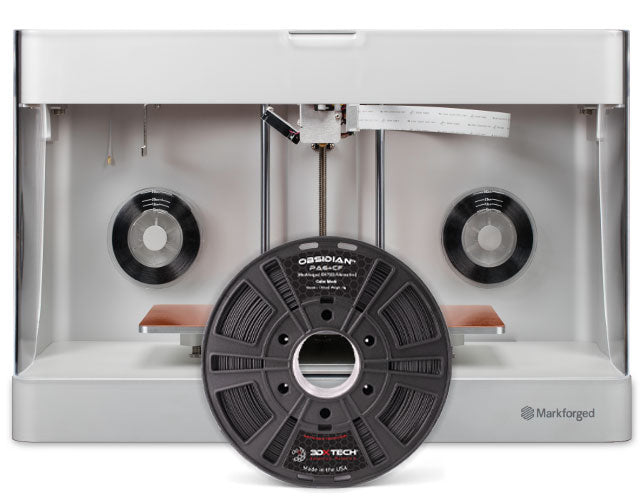 Obsidian™ PA6+Carbon Fiber [Markforged ONYX Alternative]
Obsidian™ PA6+CF filament was formulated to be a lower-cost drop-in Markforged Onyx Alternative suitable for all Markforged printers. We developed this material after extensive analysis and testing on our own in-house Markforged printer and many outside beta testers. The result is a seamless printing experience that produces parts with an outstanding appearance and excellent mechanical properties. Made using premium high-modulus carbon fiber and PA6 copolymer, Obsidian™ is an excellent alternative to Onyx™ that allows our customers to save money when using your Markforged printer.
Don't have a Markforged printer? That's no problem – Obsidian™ is also compatible with all non-Markforged printers that are suitable for printing PA6+CF.  Take advantage of the excellent strength, stiffness, and appearance of this specialty material without over spending on Markforged Onyx™.
Extruder Temp: 265-285°C
Bed Temp: 90-110°C
Heated Chamber: 

Recommended

Nozzle Specs: 

Hardened Steel Nozzle

 Supports: Works best with HTS break-away support


Drying Specs: 90

°C for 4+ hours

Layer Height: 

0.1mm or higher

Bed Adhesion
Filament Specifications:
Diameter:  1.75mm +/- 0.05mm
Markforged Print Recommendations:
Obsidian™ was formulated to be a drop-in for Onyx™ without any changes to the print settings.
Recommended Print Settings for Non-Markforged Printers: