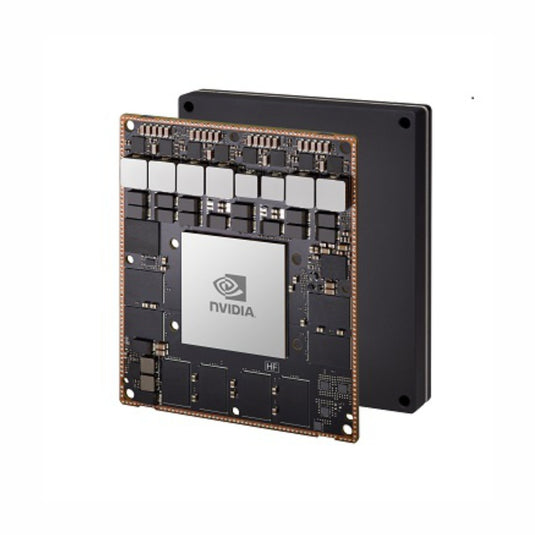 NVIDIA® Jetson AGX Xavier™ sets a new bar for compute density, energy efficiency, and AI inferencing capabilities on edge devices. It's the next evolution in next-generation intelligent machines with end-to-end autonomous capabilities.
NVIDIA Jetson AGX Xavier Industrial delivers the highest performance for AI-embedded industrial and functional safety applications in a power-efficient, rugged system-on-module. It's form-factor and pin-compatible with Jetson AGX Xavier, and with up to 20X the performance and 4X the memory of Jetson TX2i, customers can bring the latest AI models to their most demanding use cases. The Jetson AGX Xavier Industrial module is available for order now and will ship in late July 2021.
Features 
Size
A BREAKTHROUGH IN EMBEDDED APPLICATIONS
At just 100 x 87 mm, Jetson AGX Xavier offers big workstation performance at 1/10 the size of a workstation. This makes it ideal for autonomous machines like delivery and logistics robots, factory systems, and large industrial UAVs.
Performance 
TAKING PERFORMANCE TO THE EDGE
As the world's first computer designed specifically for autonomous machines, Jetson AGX Xavier has the performance to handle visual odometry, sensor fusion, localization and mapping, obstacle detection, and path-planning algorithms that are critical to next-generation robots. Get GPU workstation-class performance with up to 32 TOPS of peak compute and 750 Gbps of high-speed I/O in a compact form factor.
Power
THE POWER OF FLEXIBILITY
The Jetson AGX Xavier series provides the highest level of performance for autonomous machines in a power-efficient system. Jetson AGX Xavier ships with configurable power profiles preset for 10W, 15W, and 30W, and Jetson AGX Xavier Industrial ships with profiles preset for 20W and 40W. These power profiles are switchable at runtime and can be customized to your specific application needs.
A JETSON AGX XAVIER FOR ANY APPLICATION
The Jetson AGX Xavier series of modules deliver up to 32 TOPS of AI performance, and NVIDIA's rich set of AI tools and workflows lets developers train and deploy neural networks quickly.
Specifications 
GPU
NVIDIA Volta architecture with 512 NVIDIA CUDA cores and 64 Tensor cores
20 TOPS (INT8)
CPU
8-core NVIDIA Carmel Arm®

 

v8.2 64-bit CPU
8MB L2 + 4MB L3
DL Accelerator
2x NVDLA
10 TOPS (INT8)
Vision Accelerator
2x 7-Way VLIW Vision Processor
Safety Cluster Engine
Dual Arm Cortex-R5 in lockstep
Memory
32GB 256-bit LPDDR4x (ECC support)
136.5GB/s
Storage
64GB eMMC 5.1
CSI Camera
Up to 6 cameras (36 via virtual channels)
16 lanes MIPI CSI-2
D-PHY 1.2 (up to 40Gbps)
C-PHY 1.1 (up to 62Gbps)
Video Encode
2x 4K60 (H.265/H.264)
6x 4K30 (H.265/H.264)
12x 1080p60 (H.265/H.264)
24x 1080p30 (H.265/H.264)
Video Decode
2x 8K30 (H.265)
4x 4K60 (H.265)
8x 4K30 (H.265)
18x 1080p60 (H.265)
36x 1080p30 (H.265)
24x 1080p30(H.264)
UPHY
8x PCIe Gen4
3x USB 3.1
Single Lane UFS
Networking
10/100/1000 BASE-T Ethernet
Display
Three multi-mode DP 1.2a/e DP 1.4/HDMI 2.0 a/b
Other I/O
USB 2.0
UART, SPI, CAN, I2C, I2S, DMIC & DSPK, GPIOs
Power
20W | 40W
Mechanical
100mm x 87mm
699 pin Molex Mirror Mezz Connector
Integrated Thermal Transfer Plate