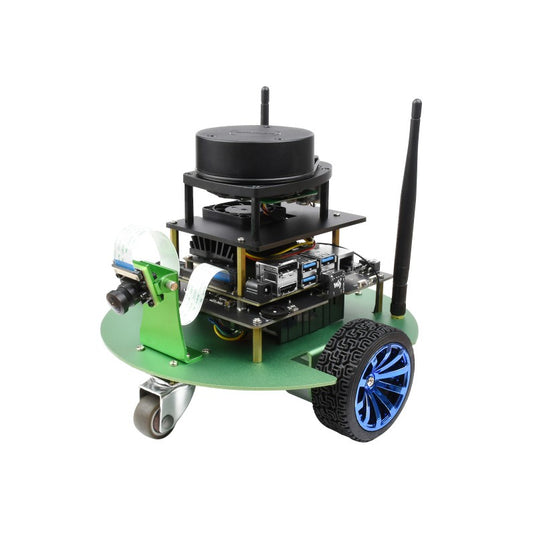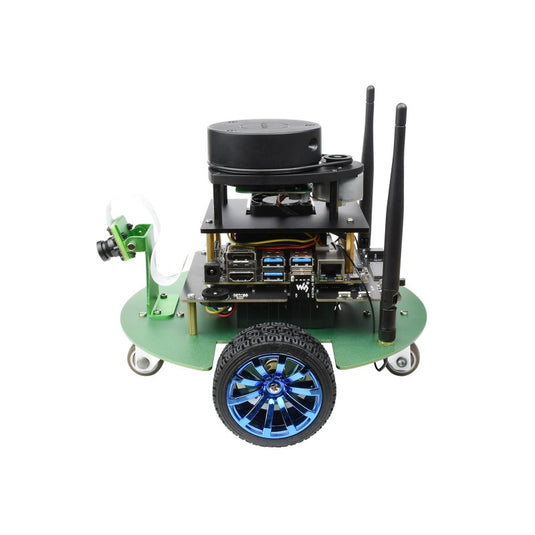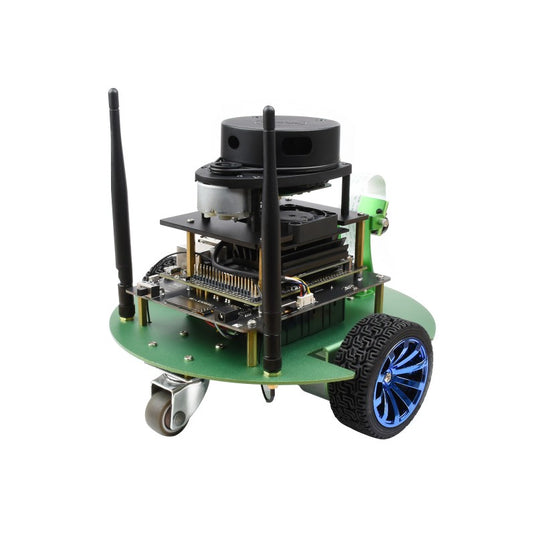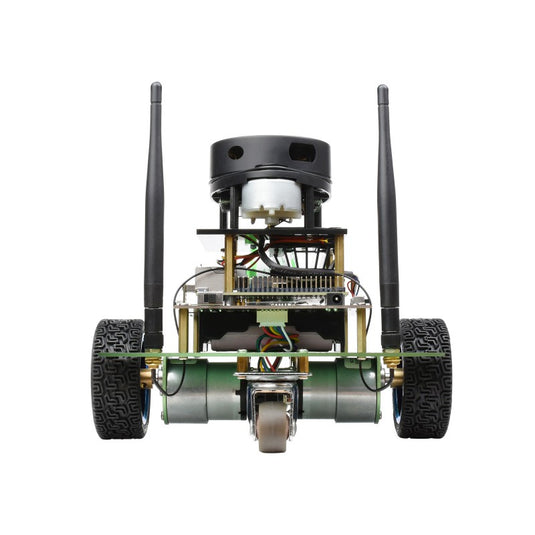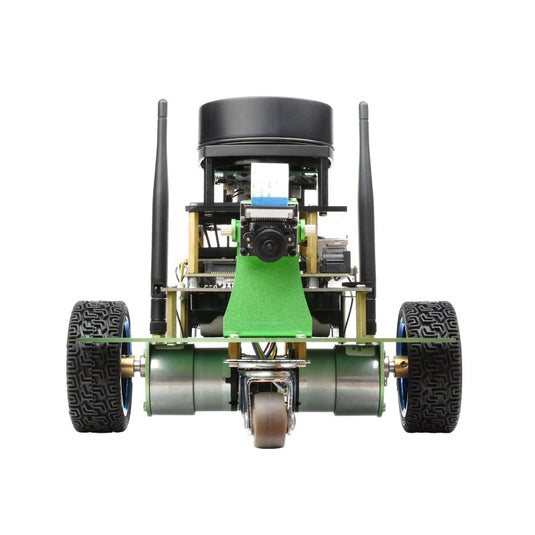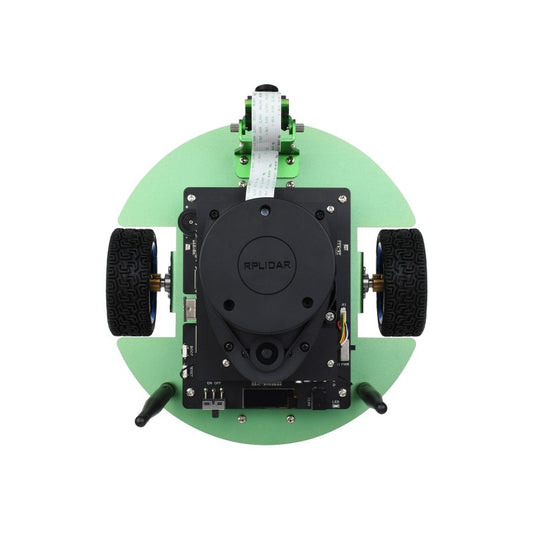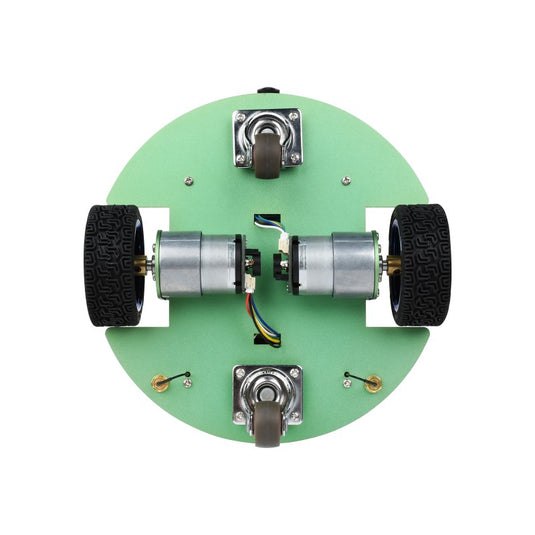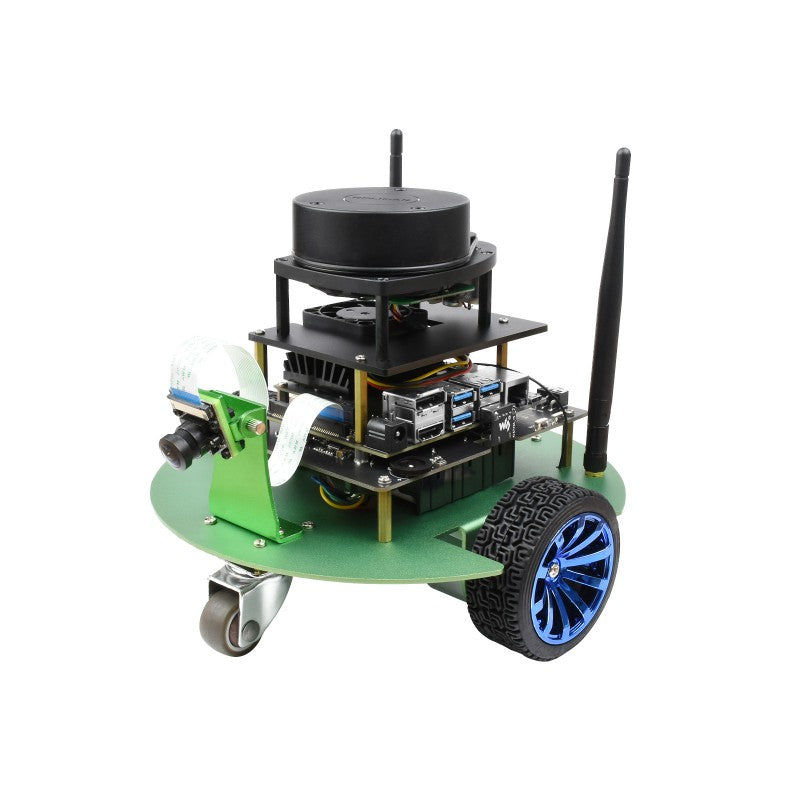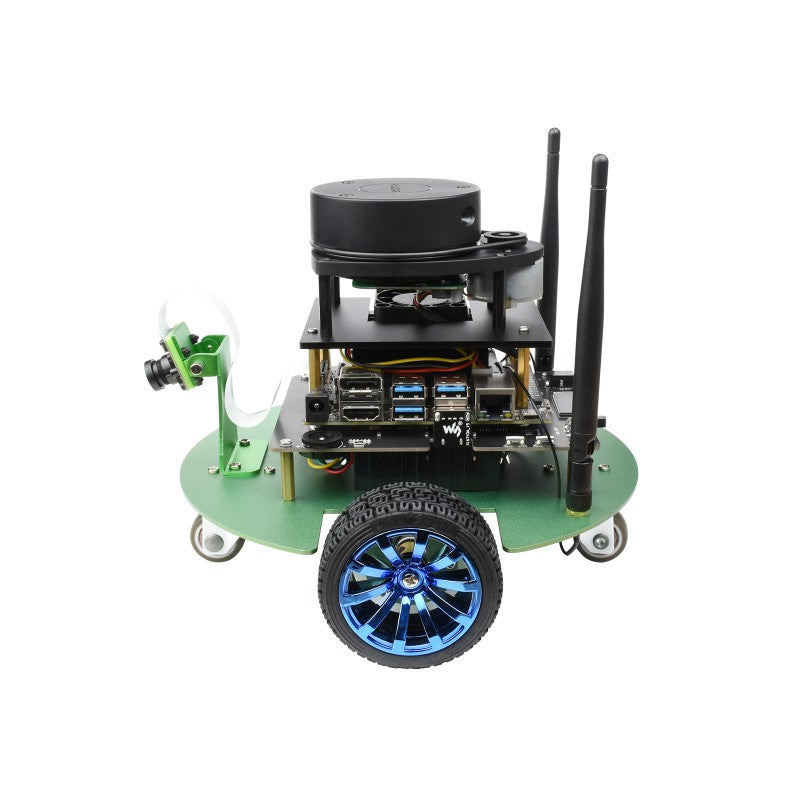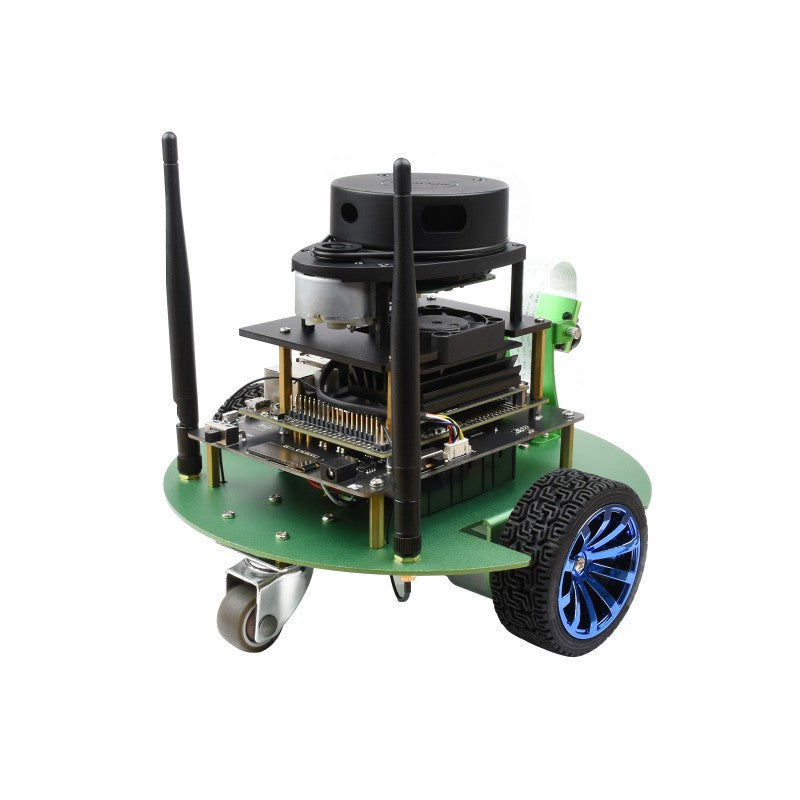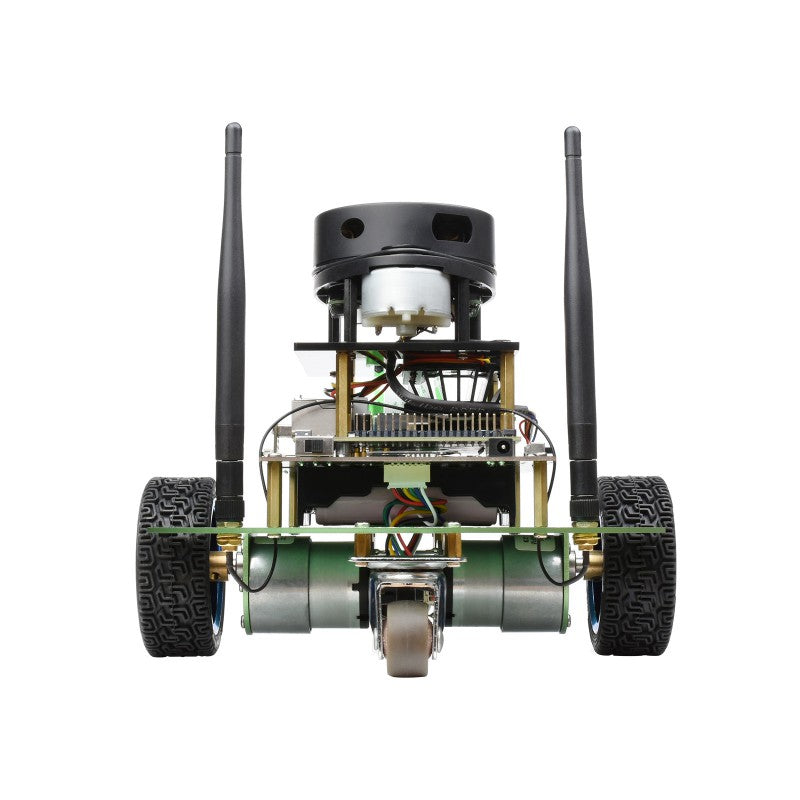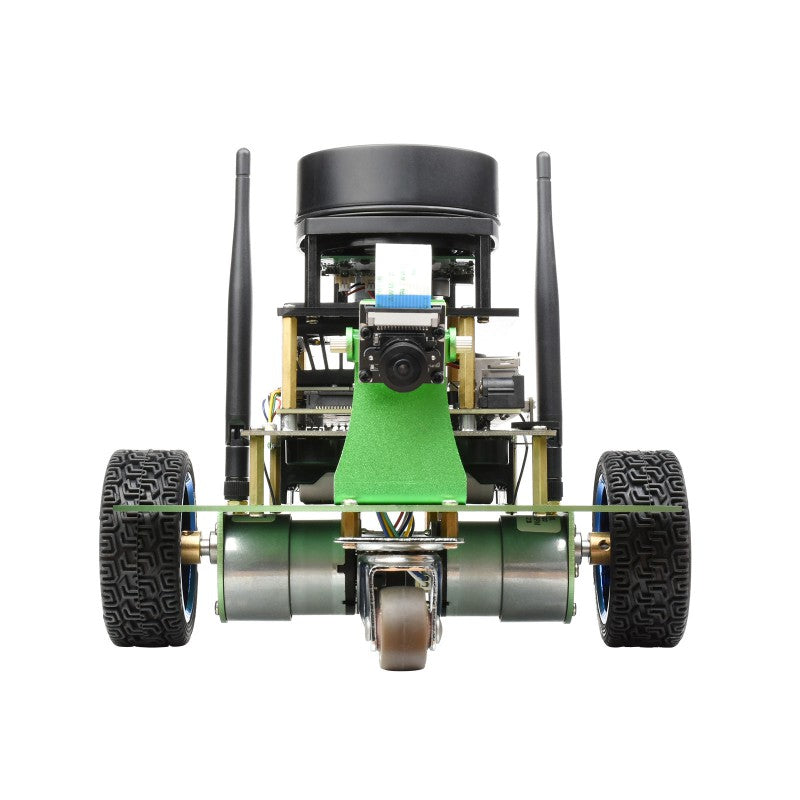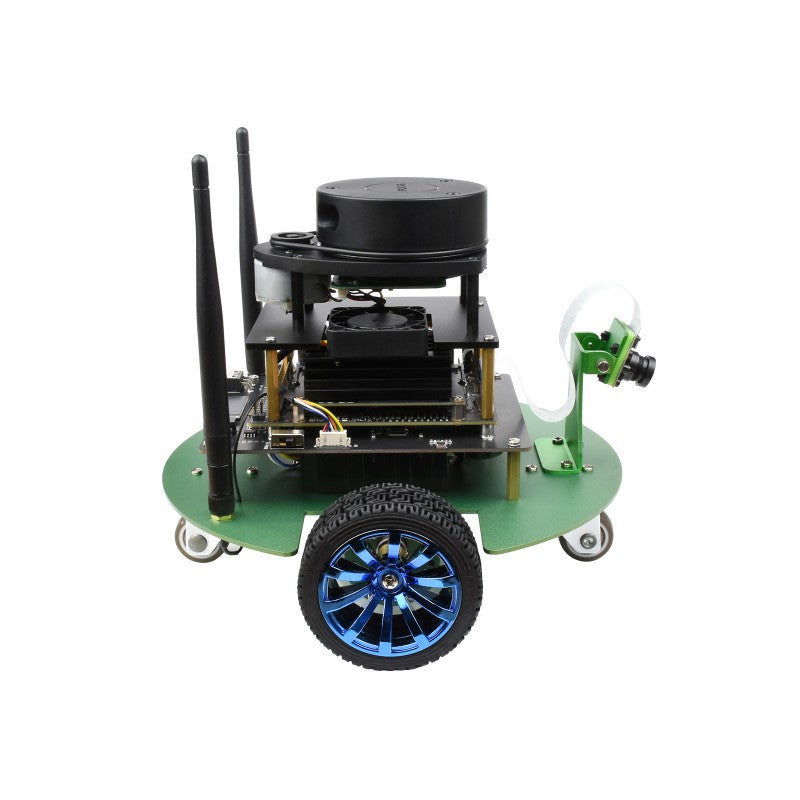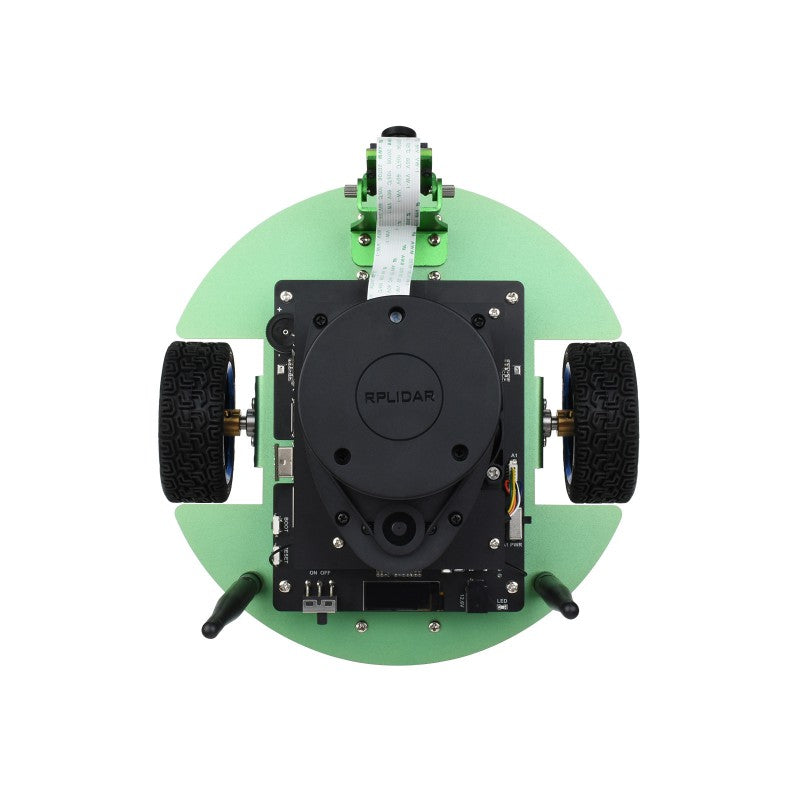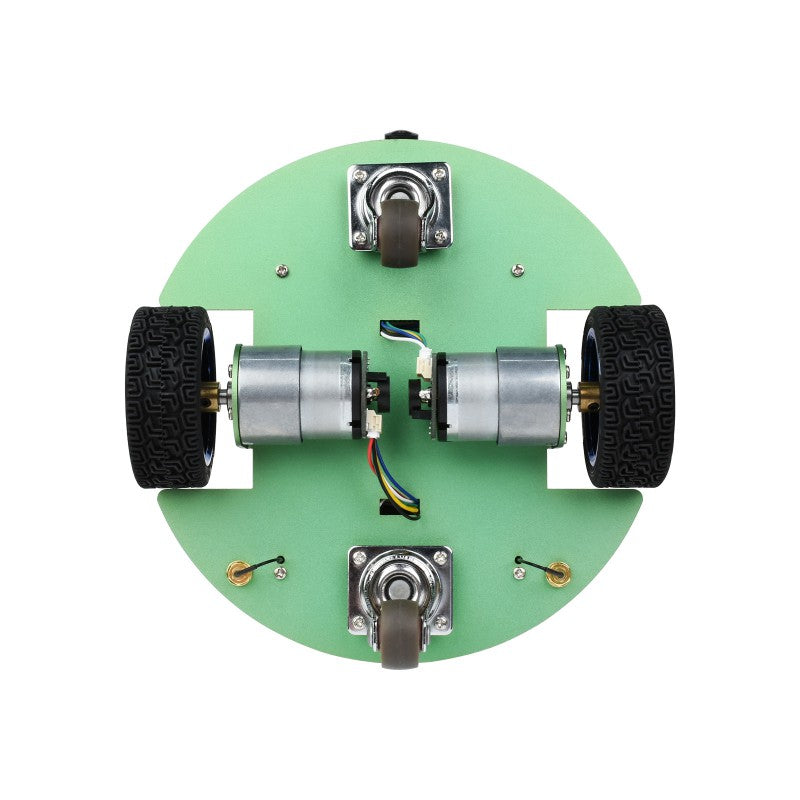 JetBot ROS AI Robot
NVIDIA Official Partner Product
JetBot AI Kit Professional Version
This is a high-performance AI Jetbot for people who learn and develop the ROS system. It adopts the ROS system and two controllers: the microcontroller of Raspberry Pi RP2040 and the AI host controller of JETSON-NANO-DEV- KIT-A. As the expansion board integrates OLED, servo motor drive circuit, battery protection circuit, the audio output circuit and so on, you do not need to weld the circuit. It can be charged without unloading, so you do not need to remove the batteries repeatedly. It features the built-in IMU posture sensor, and the DC encoder motor controls the rotating speed through PID, which can output wheel odometry data. In terms of the software, it is compatible with NVIDIA JetBot open source project program, supports AI deep learning, SLAM mapping and navigation, OpenCV visual processing, intelligent voice interaction, etc.
Features
Onboard 3 x 2600mah 18650 batteries, its voltage output is up to 12.6V with stronger motor power.
Onboard S-8254AA + AO4407A lithium battery protection circuit, it can prevent overcharge, over-discharge, overcurrent, and has short circuit protection.
The onboard INA219 is convenient for real-time monitoring of battery voltage and charging current.
With 0.91-inch 128 × 32 resolution OLED, it can display real-time data from the car, such as IP address, memory, battery power, etc.
Featured MPU9250 IMU posture sensor, the direction of the robot can be accurately judged.
With the coded DC gear motor, it supports PID debugging and outputs wheel odometry data.
With Raspberry Pi RP2040 dual-core micro-controller, it has better real-time performance and higher accuracy in control.
Adopting the ROS system and a series of visual software, it can be developed more.
Support I2C slave mode control, it is fully compatible with NVIDIA JetBot open source project program without porting and is easy to achieve AI functions such as obstacle avoidance and autonomous line tracking.
Resources
It meets the needs of scientific research algorithm verification in various fields such as Lidar mapping, autonomous navigation, autonomous self driving, intelligent speech, target detection, face recognition, etc. It is not only compatible with the NVIDIA Jetbot open-source project program, but also is overall upgraded in hardware with better performance
JETBOT AI KIT
JETBOT ROS KIT
APPEARANCE
MICROCONTROLLER
N/A
Raspberry Pi RP2040 Chip
MOTOR
TT motor
Reduction rate 1:48
Idle speed 240RPM
37-520 Metal Encoder Motor
Reduction Rate 1:30
Idle Speed 333RPM
MOTOR ENCODER
N/A
11 wire AB phase hall speed sensor, supports wheel odometry
IMU SENSOR
N/A
MPU9250
LIDAR
N/A
RPLIDAR A1
AUDIO INTERFACE
N/A
Double Speakers, Dual Microphones, Support Intelligent speech
MAPPING NAVIGATION
Not Support
Support
Intelligent Dual-Controller Design
The host controller adopts Waveshare Jetson Nano Kit, which is equipped with Jetson Nano Module 16GB eMMC version, 4GB memory and has better performance. This controller is responsible for Artificial Intelligence (AI), speech processing, visual processing, mapping and navigation, etc.
The sub-controller uses the Raspberry Pi RP2040 dual-core microcontroller, which has better real-time performance and higher control accuracy, and is responsible for attitude data collection and motion control.
Adopting USB Communication, Transmission Speed Faster Than The UART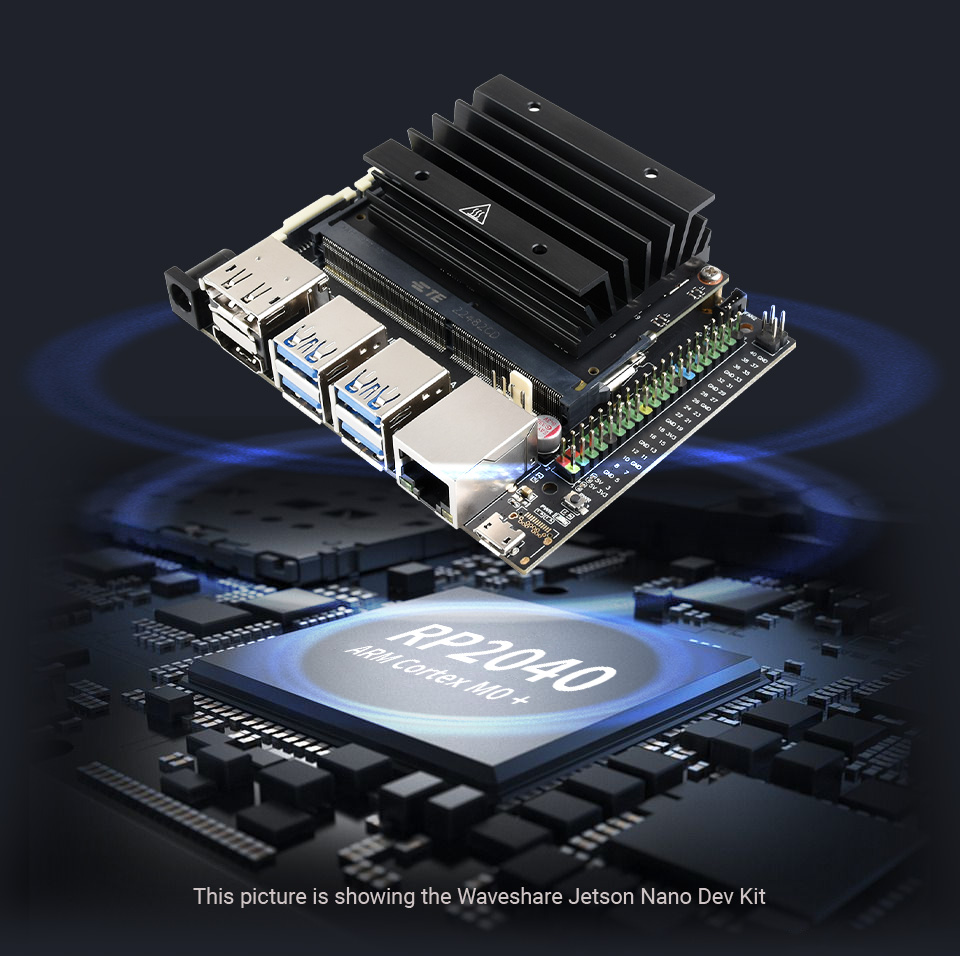 Developed Based On ROS
ROS (Robot Operation System) is an open-source operating system that includes a collection of software libraries and tools for robot design. It provides the services expected of an operating system, including hardware abstraction, bottom layer device control, implementation of common functions, message transfering between processes, and package management. ROS simplifies robot design and is the mainstream robot software framework in the world.
Support I2C Slave Mode Control
Completely Compatible With Original JetBot Demo
The Expansion Board Supports I2C Slave Mode Control Without Porting And Completely Compatible With NVIDIA JetBot Open-Source Project Program, Easily Realizing AI Functions Such As Obstacle Avoidance And Auto Line Tracking.
SLAM Lidar Mapping
Mapping With Odometer, IMU, Lidar, EKF, Etc.
Supports Gmapping, Hector, Karto, And Cartographer Mapping Algorithms
Path Planning, Autonomous Navigation,
Dynamic Obstacle Avoidance
Adaptive Monte Carlo Localization (AMCL) | Move_base Autonomous Navigation
Supports Single-Point Navigation, Multi-Point Patrol Navigation, And Mapping While Navigating
Single-point Navigation
After publishing the navigation target position, the robot will automatically plan the path to navigate to the target position.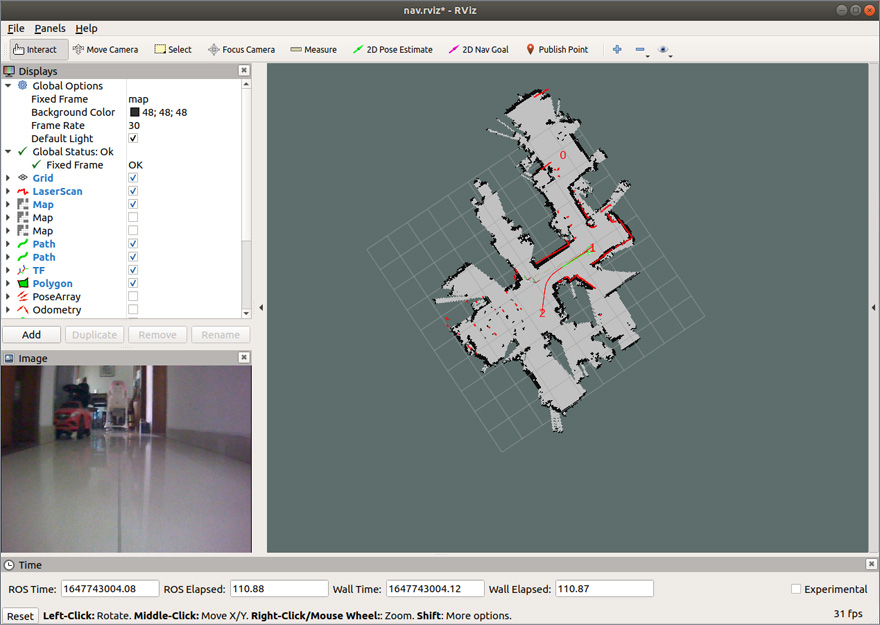 Multipoint Patrol Navigation
Add navigation dots, the robot will cruise and navigate between the navigation dots.
Mapping while navigating
After publishing the navigation target position, the robot will automatically explore the path to the target point, and publish it while scanning the map.
OpenCV Vision Processing
Integrates OpenCV Vision Library, With Extensive Algorithm Demos
Intelligent Speech Processing, Human-Robot Speech Interaction
Supports Remote Speech Intercom, Speech Synthesis, Speech Detection, Speech Recognition, Human-Computer Speech Interaction
Real-Time Remote Speech Transmission, Allowing Robots To Deliver Conversations
Real-Time Speech Transmission Between The Computer And The Robot, Enables Two-Way Remote Communication
Speech Synthesis Playback, Let The Robot Speak
Convert Text To Natural, Smooth Vocals And Play
Send A Text Topic To The Robot, And You Can Hear It Talking
Speech Detection To Let The Robot Know I'm Speaking
Detects The Sound Of The Audio Stream And Removes The Mute Part
Only Take The Part That The Person Speaks
Speech Recognition, Let The Robot Understand What I Say
Recognize Audio As Text
Block Diagram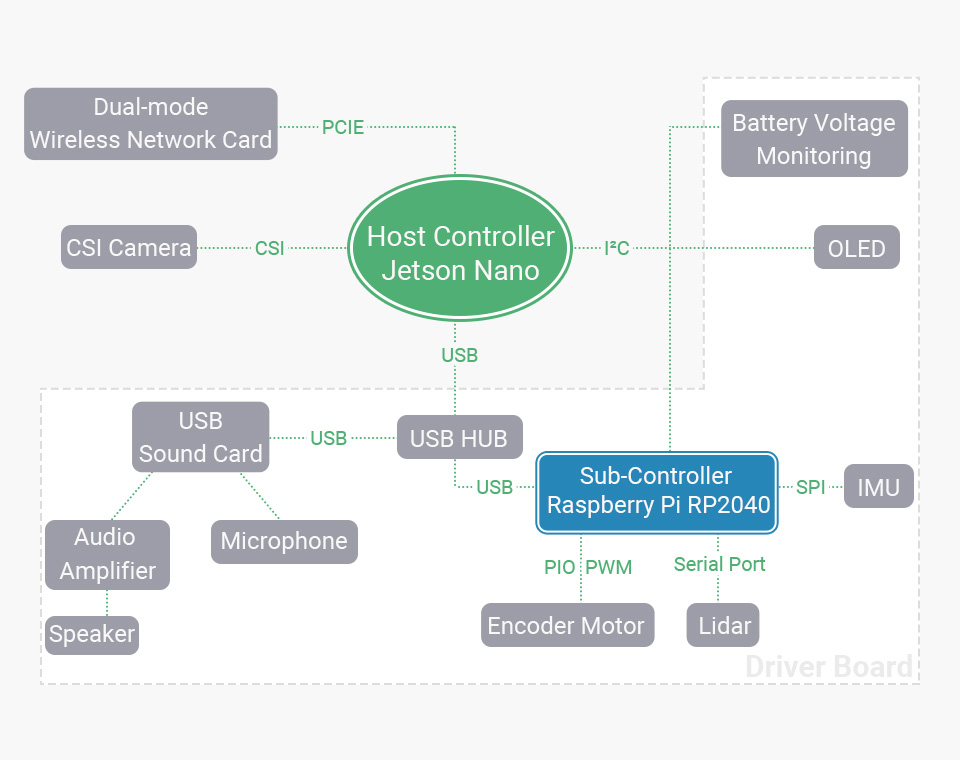 High-Power Encoder DC Gear Motor
High-Quality Carbon Brushes, All-Metal Gear Structure, High Precision, Low Running Noise, 11-Wire AB-Phase Hall Speed Encoder, Support PID Closed-Loop Speed Control To Calculate Wheel Odometer Information
IMU Sensor
Built-In High-Precision 9-Axis Motion Attitude Sensor, Using Extended Kalman Filter To Merge Wheel Odometer And IMU Data, Can Produce Higher-Precision Robot Attitude
360 Degree Laser Ranging Lidar
360-Degree Scanning And Ranging Of The Surrounding Environment To Obtain A Contour Map Around The Robot
8MP 160 FOV Camera
IMX219 Sensor, 3280 X 2464 Resolution
Suitable For OpenCV Vision Development, Object Recognition, Target Tracking, Automatic Driving And Other AI Functions
Using USB Audio Chip
Onboard Two High-Quality MEMS Silicon Microphones And Dual Speakers For Stereo Recording And Playback
So The Robot Also Has "Ears" And "Mouths" That Can "Listen" And "Talk". Easily Realize Intelligent Speech Interaction
Safe & Stable Circuit Design
Onboard battery protection circuit for preventing overcharge, over-discharge, overcurrent, short circuit proof, with reverse proof, and equalizing charge. Makes your operation more stable and safer. Built-in battery detection circuit, onboard OLED to real-time display the battery voltage, current, and remaining battery capacity.
Product Structure
Highly Integrated Expansion Board
 

Dimensions
Package Contains:
1x ThinkRobotics Jetson Nano 4GB B01 Dev Kit (Optional)

1x Cardboard Case

1x JetBot ROS chassis
1x JetBot ROS expansion board
1x RPLIDAR A1

2x High power encoder motor
1x Acrylic piece
1x Wireless-AC8265 with antennas
1x IMX219-160 Camera
1x Acrylic camera spacer
1x 1-inch caster
1x Cooling fan
1x 65mm Tire
1x Wireless gamepad
1x USB adapter
1x Camera holder
2x PH2.0 6PIN Cable
1x 12.6V 2A battery charger
2x 6mm hole Coupler
4x Coupler screws
1x Mini cross wrench sleeve
1x Spanner
1x Allen Spanner
1x Screwdriver 2PCS
1x Screws pack