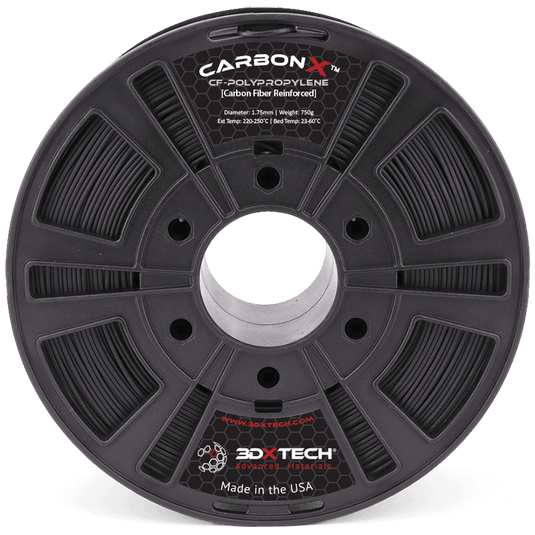 CarbonX™ PP+CF is made using a specialty formulated PP copolymer and reinforced with premium high-modulus carbon fiber. This material offers ease of printing, strength & stiffness, excellent dimensional stability, and an amazing surface finish.
CarbonX™ PP+CF is made using a specialty formulated polypropylene copolymer reinforced with high-modulus chopped carbon fiber. This filament is based on a patent-pending formulation that offers improved thermal properties and low shrinkage/warp compared to competitive PP-based compounds.
The reels contain 750g of filament, but based on the very low density of PP+CF, this is the same amount of filament that would typically be found on a 1kg reel of ABS. This allows you to print lightweight and exceptionally rigid parts for medical, drones, watercraft, automotive, or any application which would benefit from a lightweight, stiff, chemically resistant material.
Benefits of PP+CF Include:
Excellent resistance against a huge variety of chemicals
Low density and weight
Easier to print than most flexible materials and suitable for use with practically any 3D printer
Does not absorb moisture, no drying is needed!
High strength and stiffness
Chemical Resistance of PP+CF:
Since properties can change depending on print environment and 3D model geometry and/or surface area, it is always required to do your own testing, but Polypropylene is famous for its chemical resistance to a huge range of environments including:
Acids: Acetic, Boric, Hydrochloric, Phosphoric, Stearic, Sulfuric, Uric
Bases: Hydrocides of Ammonium, Barium, Calcium, Magnesium, Potassium, Sodium
Solvents: Acetone, Ethanol, MEK, Phenol (10%), Water
This product contains 750 grams of filament. 
2.85mm Available on order only. (Lead time: <7 days)
Specifications
1.75mm and 2.85mm +/- 0.05mm in diameter
Recommended Print Settings:
Extruder: 220-250°C
Bed Temp: 23-60°C
Nozzle: We highly recommend a

 

hardened steel nozzle

 

with a minimum diameter of 0.4mm
Other: Ideal layer height is 60% of nozzle diameter. We do not recommend printing layers smaller than 0.2mm with carbon fiber reinforced filaments
Bed Prep:

 

Magigoo Bed Prep

 

gives us the best results
Heated Chamber: Not required
Supports: AquaTek™ Water Soluble

 

X1 USM Universal Support Material

 

is one of the few materials capable of properly forming a strong, temporary bond for support. Polypropylene is infamous for being difficult to support, and X1 USM is ideal for the job
Drying Instructions: Not needed
CarbonFiber 
What Is It?
Fibers 5-10 micrometers wide made of carbon. The fibers are aligned following the axis of the material. This, along with their physical makeup, are what gives this material its excellent properties.
What Does It Do?
Carbon Fibers demonstrate a lot of desirable material properties:
High stiffness
High tensile strength
High heat tolerance
High chemical resistance
Low weight
Low thermal expansion
How Does It Work?
Reinforcing plastic with carbon fibers produces a 3D printing filament which exhibits the best properties of both the carbon fibers and the plastic of choice.
What Is It Good For?
Ideal for any applications which require lightweight and rigidity. Carbon fiber reinforced parts, designed to use less material and save weight, are extremely popular in aerospace, civil engineering, the military, and motorsports.
Abrasive Material
This material is particularly abrasive among 3D printing filaments. Users may find standard brass nozzles are chewed through very quickly compared to standard wear and tear. When worn through, the nozzle diameter will widen inconsistently and the printer will experience extrusion issues. Because of this, it's strongly recommended this material be printed through a hardened steel nozzle rather than a softer metal. Hardened steel nozzles can often be inexpensive and easily installed depending on your printer manufacturer's instructions.
Resouces