ARTIFICIAL INTELLIGENCE EDUCATION PLATFORM
The Artificial Intelligence Kit 2023 is newly upgraded with 5 major visual recognition algorithms and 7 hardware updates, supporting 6 robotic arms of Elephant Robotics. Users can learn major robotics knowledge from 8 perspectives and use visualization software with this kit. It can achieve positioning, grabbing, and automatic sorting. Based on the Python platform, the control of the robotic arm can be realized through the software. Users can learn the basics of artificial intelligence, inspire innovative creation, and enjoy the open source creative culture with AI Kit 2023.
The Artificial Intelligence Kit 2023 has good expandability and high openness, and can be used for multiple purposes. It can be easily used for higher education training platforms, robotics study and research, or personal learning and project development.
5 MAJOR VISUAL RECOGNITION
AI kit has 5 built-in main visual recognition algorithms and users can use different colored wooden blocks and different shaped cards for the recognition function. Also, users can use 4 types of QR CODE recognition to learn the relationship between 2D and 3D. Feature point recognition helps users learn to understand image segmentation and features and learn YOLOv5 algorithm quickly.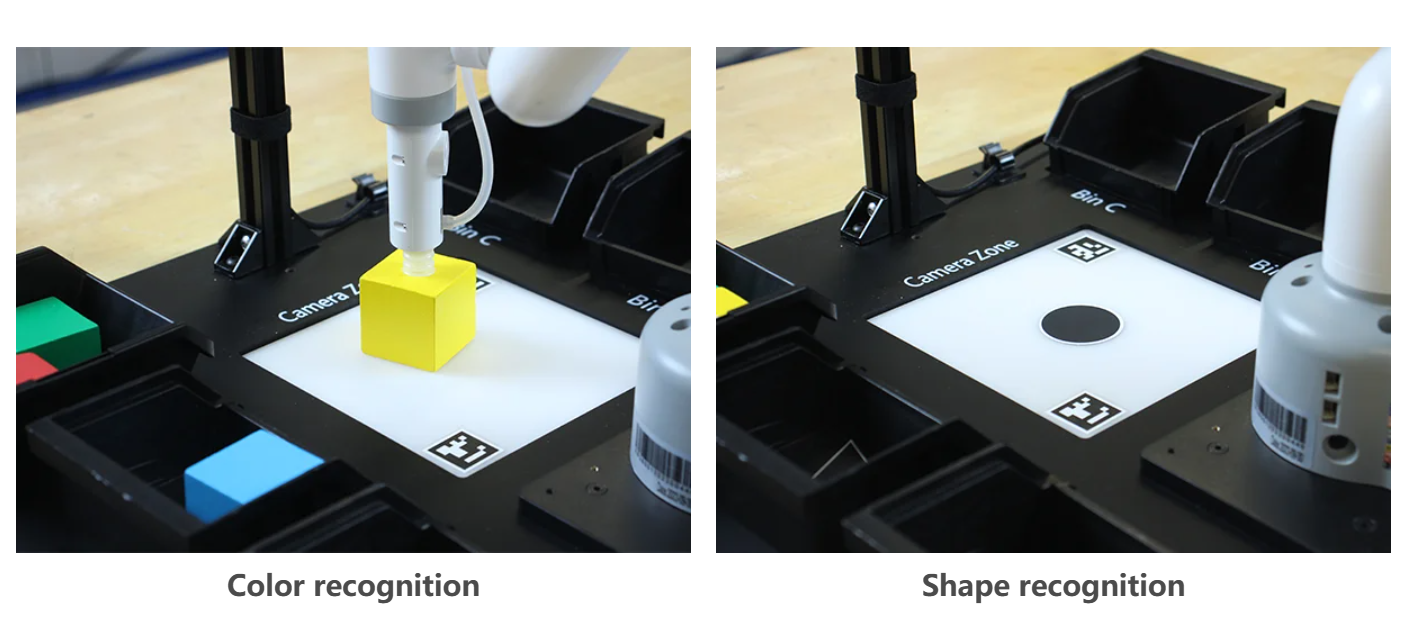 Compatible with 6 Robotic Arms of ER
It is compatible with 6 robotic arms of Elephant Robotics, supports M5Stack and Raspberry Pi versions.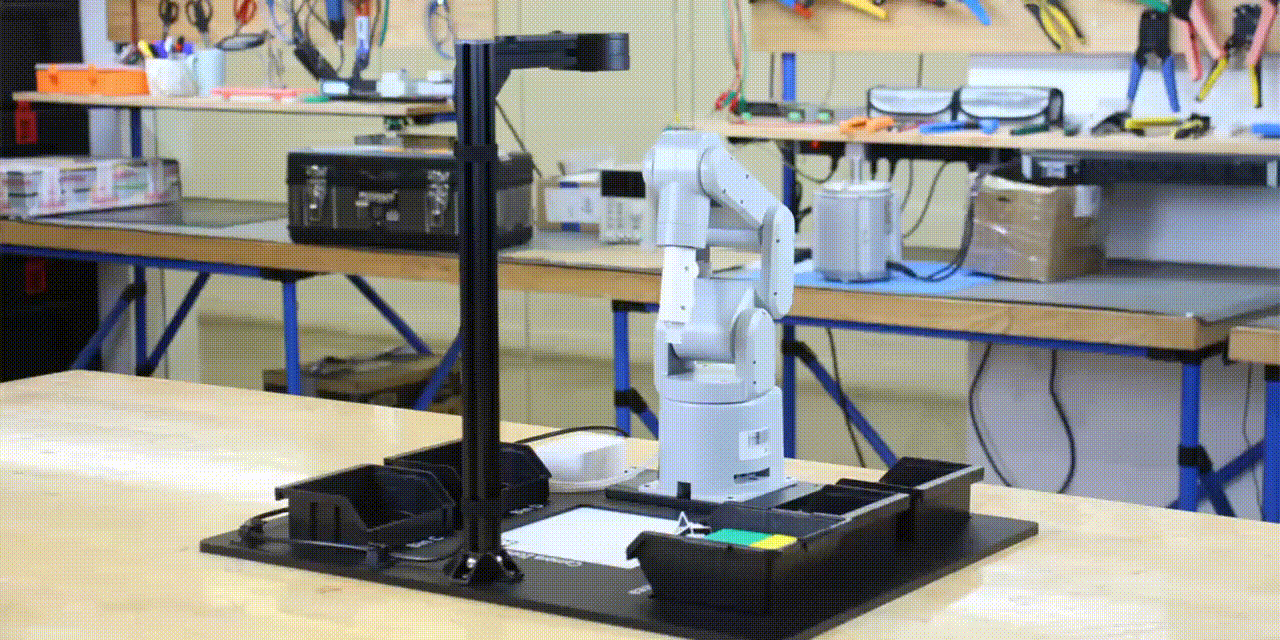 Vision education kit
 

What can you learn?

OpenCV
Python
ROS
Inverse kinematics

 

Hand-eye calibration
Robot vision
Robot control principle
End-effector use
INCLUDED COMPONENTS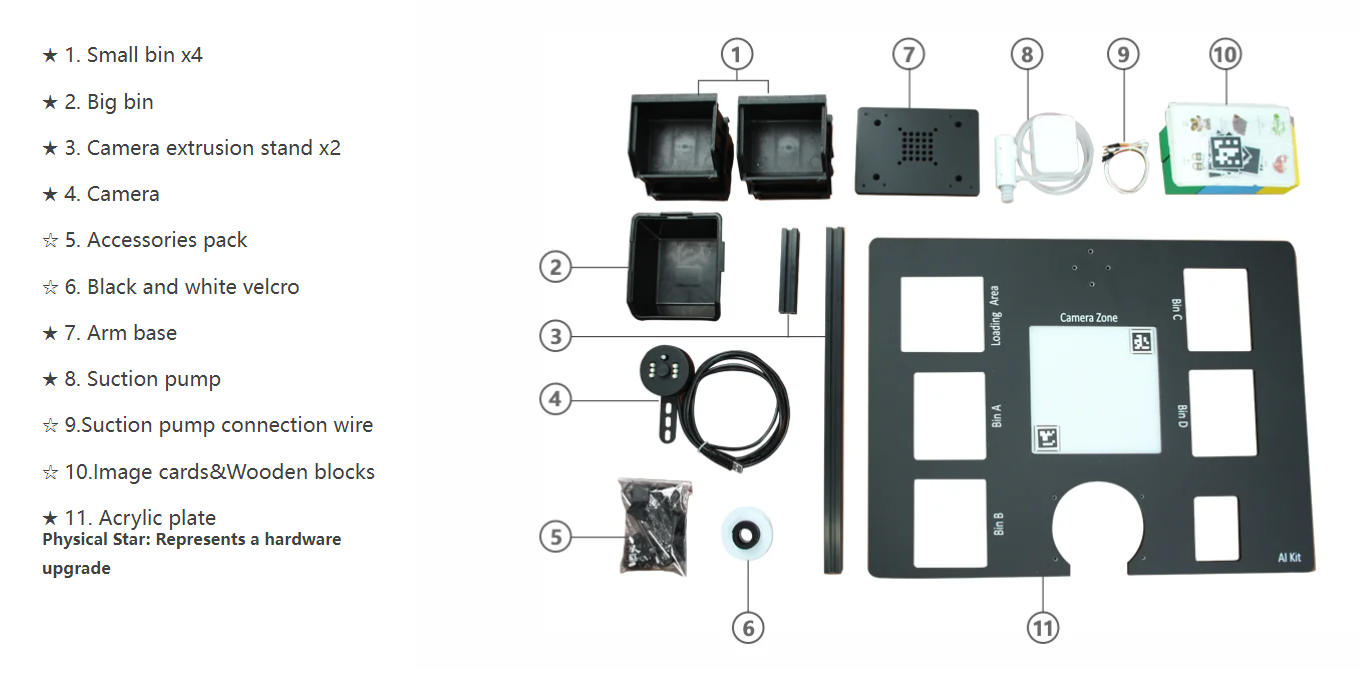 ** Robot Arms are not included in the kit.
VISUALIZATION SOFTWARE
The Artificial Intelligence Kit 2023 supports visual software operation, provides customized and simple operation methods. Users can quickly start the artificial intelligence learning journey.

Software
| | |
| --- | --- |
| Product name | AI kit 2023 |
| Color recognition | √ |
| Shape recognition | √ |
| AR code recognition | √ |
| Feature point recognition | √ |
| YOLOv5 recognition | √ |
| Visual positioning capture | √ |
| automatic sorting | √ |
| ROS | √(only for myCobot 280) |
| Python | √ |
| Visualization software | √ |
Hardware
| | |
| --- | --- |
| Product name | AI kit 2023 |
| Acrylic base | With screen print |
| Robotic Arm Fixing Base | Universal base |
| USB Camera | 2 megapixel + fill light camera |
| Camera Bracket | Aluminum extrusion stand |
| Suction Pump | Suction pump V2.0 |
| Other Parts | Big and small bins |
| Packing Sponge | Pearl sponge |
Product parameter
| | |
| --- | --- |
| Product name | AI Kit 2023 |
| Total measurement | 500X400X405mm |
| Recognition speed | Color/shape/QR code: 300ms; Feature points: 600ms |
| Recognition accuracy | 3mm |
| camera name | USB distortion free camera |
| image pixels | 2M 1080p |
| Supported image formats | MJPG/YUY2 |
| pixel size | 3.0umx3.0um |
| Maximum frame rate | MJPG:1920*1080@30fps; YUV:1920*1080@30fps |
| USB protocol | Standard UVC protocol |
| Power supply | DC5V 90mA |
| Field of view | 110° no distortion |
| Lens focal length | 2.8mm |
| Supported system | Windows XP/7/8/10/VISTA/SEVEN/MAC LINUX(include uvc)/Raspberry Pi/Android 4.2+ |
FAQs
Q1: Does it support secondary development?
A1: Of course. You can use our API to control the robot arm directly or remotely, or dive directly into the open source ROS code. It also supports the development of vision applications using OpenCV.
Q2: What can I learn with this kit?
A2: With AI Robot Kit , you can learn OpenCV, Python programming, ROS learning, inverse kinematics, hand-eye calibration, machine vision, robot control principles, end-effector use, etc.
Q3: Is there a visual software operation?
A3: Of course, AI Kit supports visual software operations. It provides custom and simple operation methods to quickly open the AI Kit.
Q4: What are the applications I can achieve?
A4: We have 5 big visual recognition application scenarios. The kit includes red, yellow, blue and green color wood blocks, different shape cards. 4 kinds of QR code recognition to learn the projection relationship between 2D and 3D world. Image feature point algorithm takes you to learn image segmentation, saves image feature. Deep learning yolov5 algorithm helps you understand the neural network.
Q5: What about its working time?
A5: The robotic arm in the kit uses adapter power instead of battery power. As long as there is power, it can always work. But we do not recommend letting it work for a long time. Just like you use a computer, it is better to let it take a break once in a while.
Q6: Can you provide relevant information about the Artificial Intelligence Kit 2023 of Elephant Robotics?
A6:
Github-development Link ( software tutorial ) can be found here!
Gitbook ( Web Version Detailed Tutorial ) can be found here!
Q8: What about the after-sale service?
A8:
| | |
| --- | --- |
| Warranty Period | Warranty Services |
| ≤12 months | Elephant Robotics offers one free new part. The customer will bear shipping costs. ThinkRobotics will facilitate the process. |
| ≥12 months | Customers have to pay for the repair. |