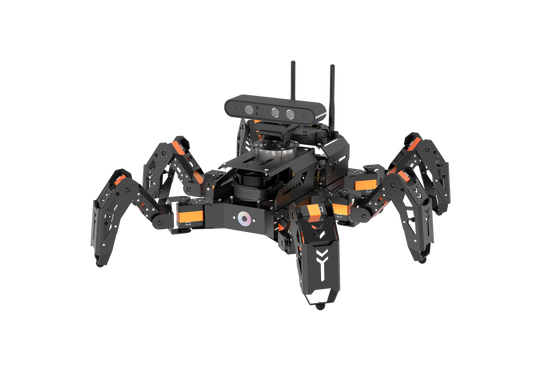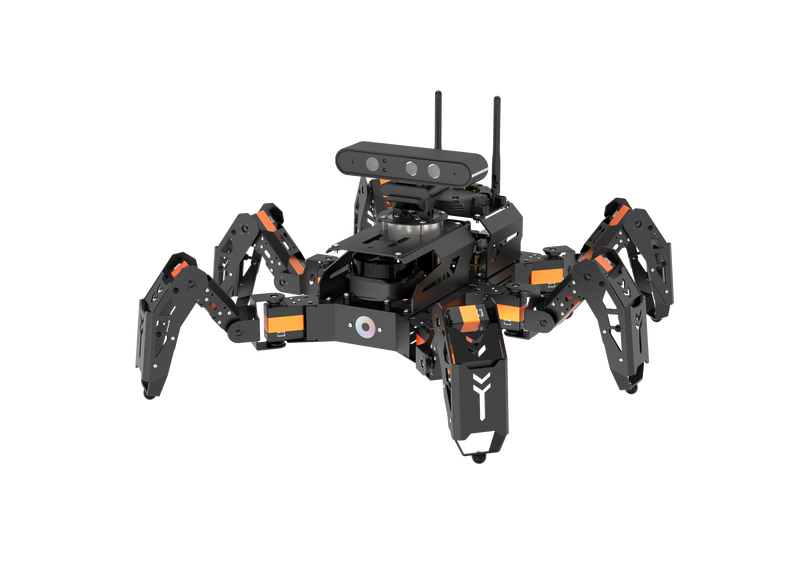 ROSpider is an intelligent vision-based hexapod robot developed on the ROS operating system. It is equipped with 45KG high-voltage bus servos, based on Jetson Nano B01 as the main controller it features:
LiDAR
3D depth camera
IMU sensor
far-field microphone array
speaker
electric pan-tilt
OLED LCD screen
...and other high-performance hardware configurations. It also comes with advanced kinematic gait algorithms, allowing for flexible transitions between various complex gaits. The robot's body posture, height, speed, and stride can be continuously adjusted.
Due to its powerful controller, the ROSpider robot possesses various functionalities, including gait control, remote communication, mapping and navigation, path planning, obstacle avoidance while following, voice recognition, sound source localization, and voice guidance. Additionally, it can perform AI vision applications such as object recognition, gesture control, target tracking, and mask detection.
ROSpider hexapod robot is suitable for educational experiments, scientific research, and innovative practices. It not only fulfills users' needs for learning and validating hexapod robot kinematic algorithms and path planning navigation algorithms but also offers a quick and convenient integration solution for depth learning, computer vision, and voice interaction for secondary development. We provide comprehensive courses and teaching materials, along with open-source Python code for the robot, to assist users in better understanding related knowledge.
Specifications:
Size:

Body shell length

:

253mm
Body shell width

:

141mm
Single leg rotation radius

:

258mm
Maximum width in the expanded posture

:

738mm

Weight:

3.8KG

DOF:19
Body material:6061 Hard aluminum alloy material with surface black oxidation treatment
Battery:11.1V 5000mah10C Lipo battery
Operating system:ROS Melodic
Programming Tool:Python
Depth Camera:OREEBECR Astra Pro Plus
Lidar:SLAMTEC S2L
Control method:Computer /mobile app/handle
APP Name:WonderROS (Android and IOS)
Controller:Jetson Nano Board +Jetson Nano Expansion

Jetson Nano Board:

GPU : NVIDIA Maxwell architecture, equipped with 128 NVIDIA CUDA cores.
CPU

:

4-core ARM Cortex-A57 MPCore processor
Memory: 4GB 64-bit LPDDR4.
Storage

:

32GB Class 10TF

Jetson Nano Expansion Board:

9-channel bus servo interfaces
2-channel PWM servo interfaces
2x GPIO interfaces (4Pin)
2x IIC interfaces (4Pin)
1x communication serial port
Built-in switches
DC power interface
Buzzer
LED lights
2x programmable buttons.

Depth Camera(Astra Pro Plus):

3D technology

:

ORBBECR monocular structured light
Scope of work

:

0.6~8m
Field of view

(

FOV): H58.4°*V45.8°
FOV

(

RGB): H66.73°xV40.19°@1920x1080, H66.99x°V40.37°@1280x720, H60.60°xV46.81°@640x480
Depth processing chip

:

MX6000
Data interface

:

USB2.0
Size

:

164.85x48.25x40mm
Close protection

:S

upported

Lidar(SLAMTEC S2L):

Model

:

SLAMTEC S2L
Dimension

:

Bottom diameter 77mm

,

Total height 38.85mm

Measurement method

:

TOF distance measurement
Supply current

:

400mA
Communication interface

:

TTL UART

(

3.3V level

)

Angular resolution

:

0.12°
Scanning radius

:

0.05-30m for white objects

,>

10m for black objects
Measurement blind zone

:

0.05m
Sampling frequency

:

32KHz
Scanning frequency

:

15hz

Servos:HTD-45H Hight-voltage bus servo & HTS-20H High Voltage Bus servo

HTD-45H Hight-voltage bus servo:

Brand

:

HiWonder
Weight

:

64g
Size

:

51.1mmx20.14mmx40mm
Shell material: Aluminum alloy middle shell, orange anodized surface
Torque

:

45KG.cm 11.1V
Working voltage

:

9V-12.6V
Speed

:

0.18sec/60° 11.1V
Ports

:

three ports
Angle control range :

 

0-1000, corresponding to 0°-240°
Protection

:

avoid stalling and overheat
Stalled current

:

3A
Servo accuracy

:

0.2°
Control method

:

UART serial command
Gear type: Stainless steel gear
Connector

:

PH2.0-3P
Communication baud rate

:

115200
Servo ID

:

0-253 for user setting

,

ID 1 is default
Data feedback: temperature, voltage, position

HTS-20H Hight-voltage bus servo:

Brand

:

HiWonder
Weight

:

58g
Size

:

54.38mm*20.04mm*45.50mm
Torque

:

20KG.cm 11.1V
Working voltage

:

9V-12.6V
Speed

:

0.18sec/60° 11.1V
No-load current

:

100mA
Rotation

:

0°-240°
Protection

:

avoid stalling and overheat
Stalled current

:

3A
Servo accuracy

:

0.2°
Control method

:

UART serial command
Angle control range :

 

0-1000, corresponding to 0°-240°
Gear : metal
Connector

:

PH2.0-3P
Communication baud rate

:

115200
Storage: save data when power off
Servo ID

:

0-253 for user setting

,

ID 1 is default
Ports

:

three ports
Data feedback: temperature, voltage, position
Working mode

:

servo mode and deceleration motor mode

6-Microphone Array and Speaker:

Diameter

: 

85mm
Pickup distance

:

3.5m
Sound source localization accuracy

:

1°
Noise reduction

:

support
Language

:

Mandarin & English
Linux development

:

complete SDK routine is provided for offline voice command recognition,recognition result, wake-up angle and audio feedback
Speaker size

:

30x70mm

Number of speakers

:T

wo

RGB LED ring module:

4PIN interface
5 independent RGB lights, each with adjustable colors, adjustable color levels: 255x255x255
RGB LED model

:

WS2812B
Voltage

:

3.3V/5V
Aperture

:

M3

OLED LCD screen module:

4PIN interface
Multiple control commands for adjusting brightness, contrast, etc.
Can display Chinese characters, ASCII, graphics, etc.
Voltage

:

5V
Size

:

50x20mm

Software:

VNC software, Upper machine software, and Android/iOS mobile app software.

Product List:

ROSpider Robot (assembled, including mianboard)
Tags
PS2 handle
Card reader
12V charger
USB flash drive
Screwdriver
Balls

Learning Materials:

We provide a complete set of teaching materials, including ROS courses and case studies, real-person instructional videos on image LiDAR path planning navigation, machine vision applications, gameplay instructional documents and Python code, Android and iOS mobile app software, VNC software, and upper machine software

Function:RTAB-VSLAM 3D visual mapping and navigation, LIDAR mapping and navigation, KCF object tracking, group control and formation, object recognition and tracking, tag recognition, gesture recognition, motion control, body self-balancing, LIDAR obstacle avoidance, radar tracking, far-field sound source localization, speech recognition, and speech navigation.
Patent and Software Copyright:

Title: Three-port Servo, Patent Number: ZL201830387941.4
Title: Lehuansuor Bus Servo System Software, Registration Number: 2017SR194010