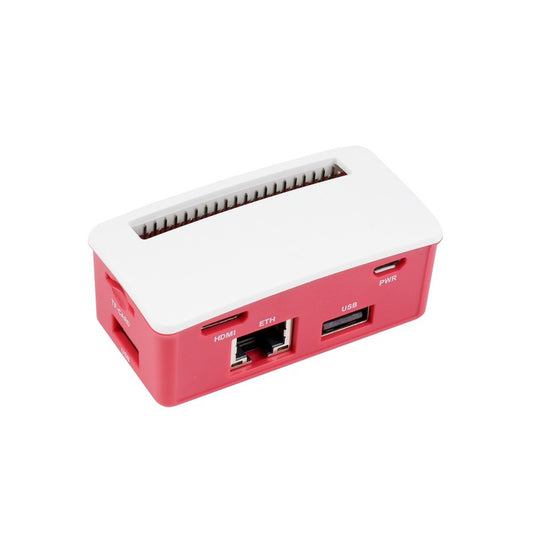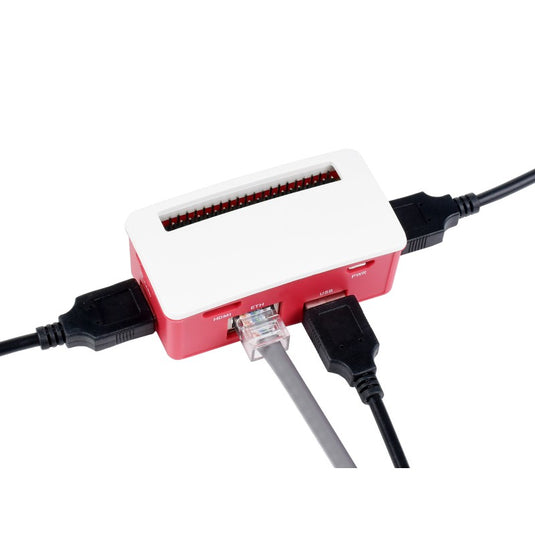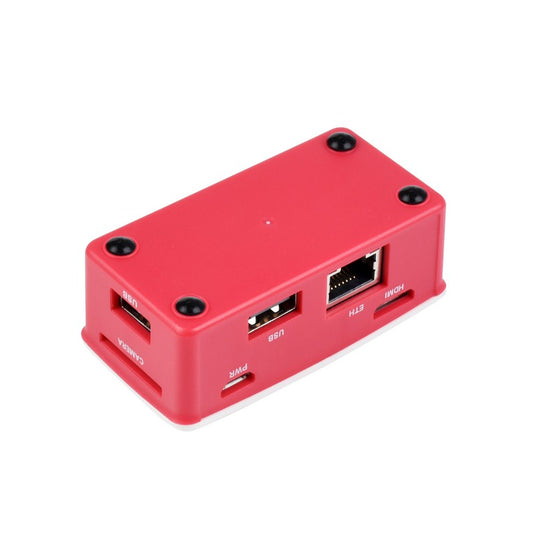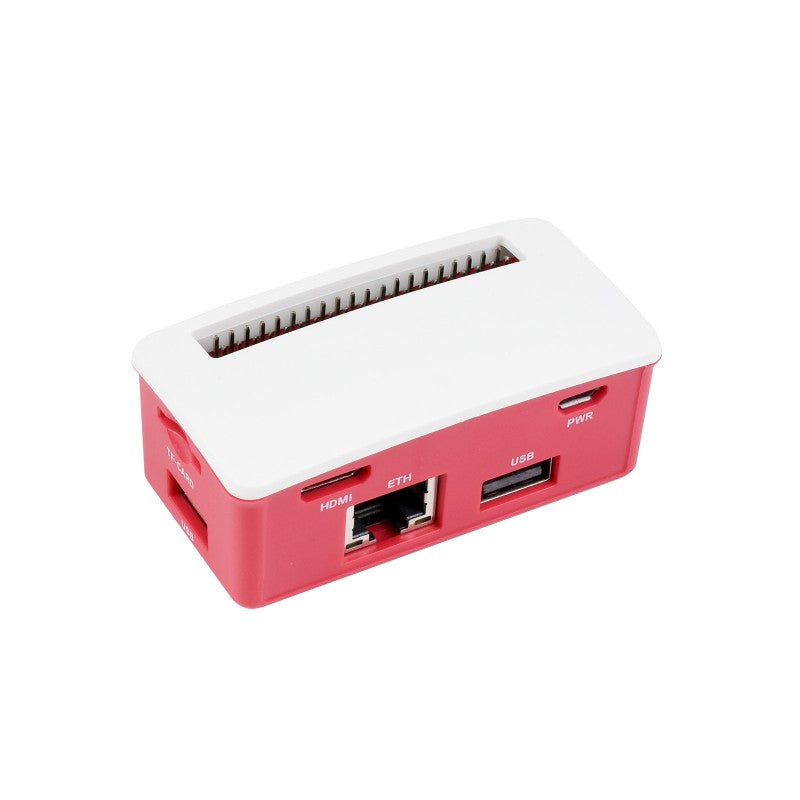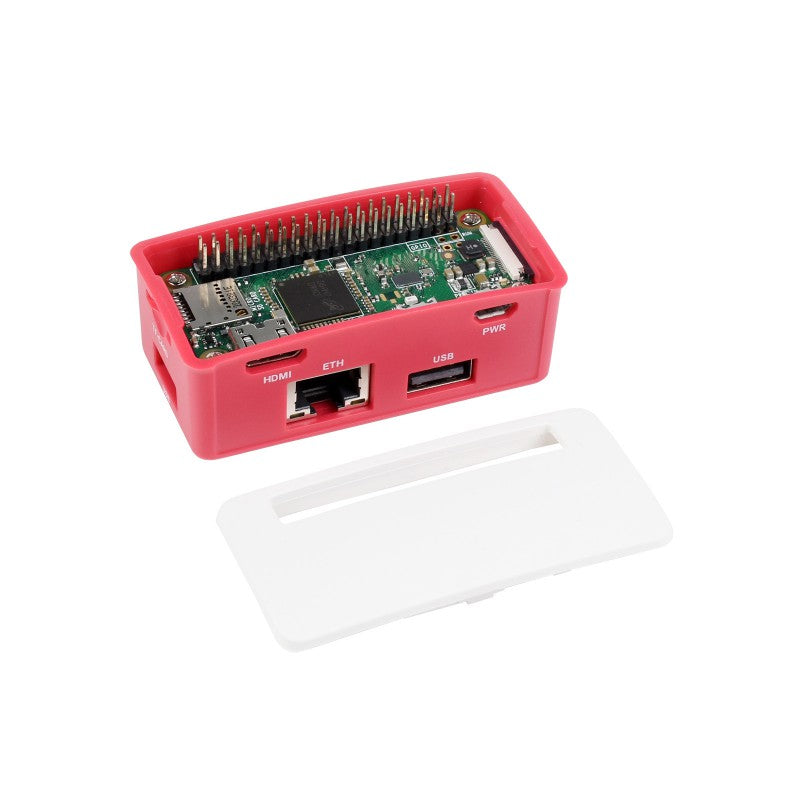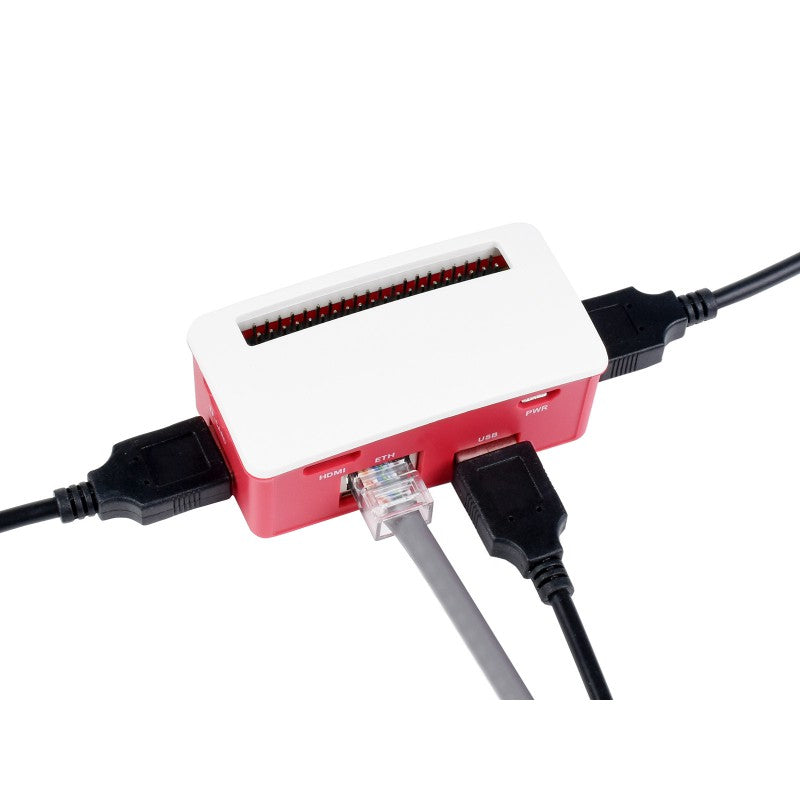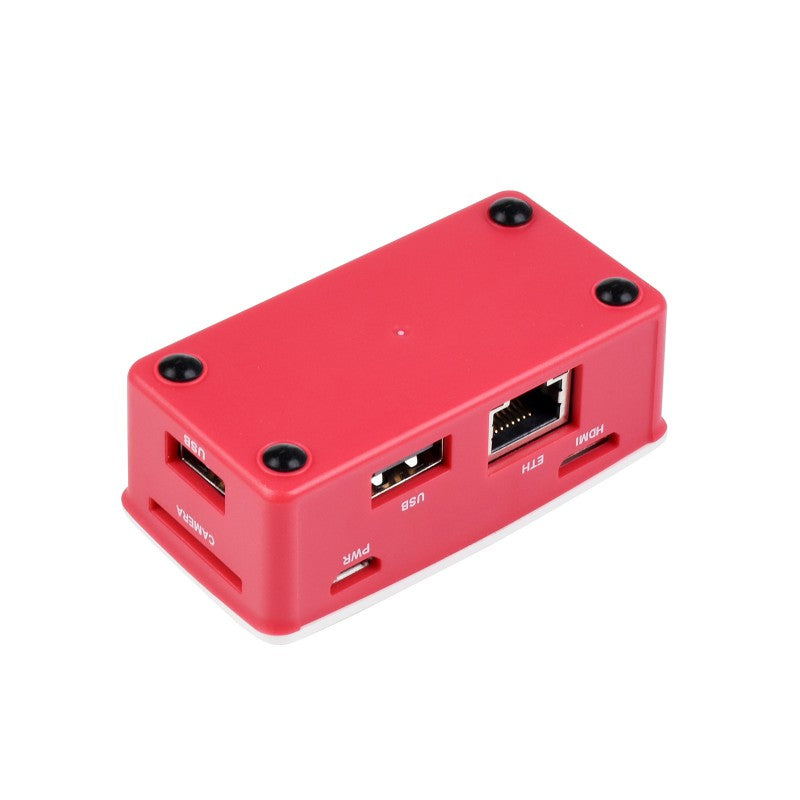 Ethernet / USB HUB BOX
For Zero
Dull polish surface, well designed, nice & dust-proof | 1x RJ45 Ethernet Port | 3x USB 2.0 Ports
The ETH-USB-HUB-BOX is a HUB kit with ETH/USB HUB HAT (B) inside. It is tailored for Raspberry Pi Zero series, small in size, each cut-out of the case is exactly aligned with the connector. The case adopts classic Raspberry Pi red/white color combination, with quality dull polish surface, effectively keeping the Zero away from dust. This HUB BOX will provide RJ45 Ethernet port and more USB capability for your Zero, make it easy to connect the Internet and sorts of USB devices.

Designed for Raspberry Pi Zero, compatible with Zero series boards
3x extended USB ports, compatible with USB 2.0 / 1.1
Incorporates RTL8152B Ethernet chip, supports 1x RJ45 Ethernet port, 10/100M auto-negotiation
Pogo pin design, for direct connecting with Raspberry Pi Zero/Zero W/Zero WH
Angle rounded design, smooth hand feeling, "simple snap" case lid
Quality ABS material, dull polish surface, anti-fingerprint
Comes with two different lids, changing as you like
Compatible With Raspberry Pi Series
Specialized Pogo Pin Connection, Dedicated Cut-Outs For Zero Series, Plug-And-Play
Extended Ports
1x RJ45 Ethernet Port, 10/100M Auto-Negotiation | 3x USB 2.0 Ports, Compatible With USB 2.0 / 1.1
Two Different Lids, Changing As You Like
"Simple Snap" Design, Easy To Change, Allows Attaching Other Zero HATs
Applications
**Raspberry Pi Zero is NOT included.
Dimensions

Resources
Package Content:
Weight: 0.06 kg
ETH/USB HUB HAT (B) x1
ABS case x1
Rubber feet 4PCS x1
Screws pack x1
Screwdriver x1
Product quality
Product quality was absolutely good 👍 and genuine. I was expecting 3 hard top cover which was full cover, gpio pain cover and camera hole cover but I got only two except camera hole cover 😞 ...which was a little bit dissatisfied.