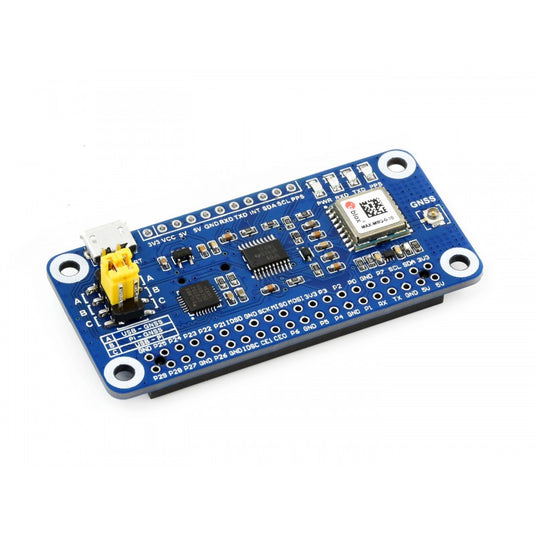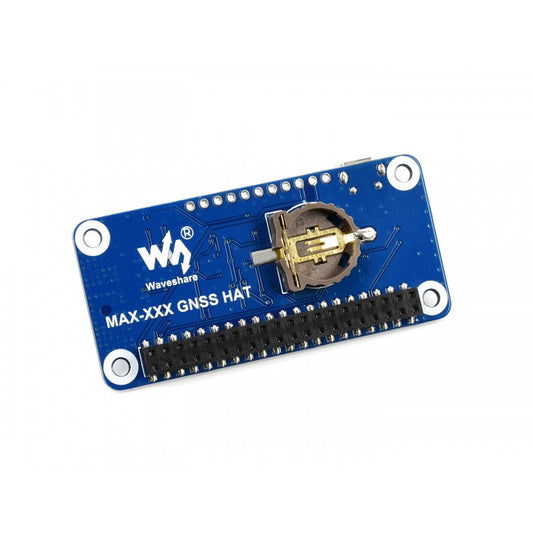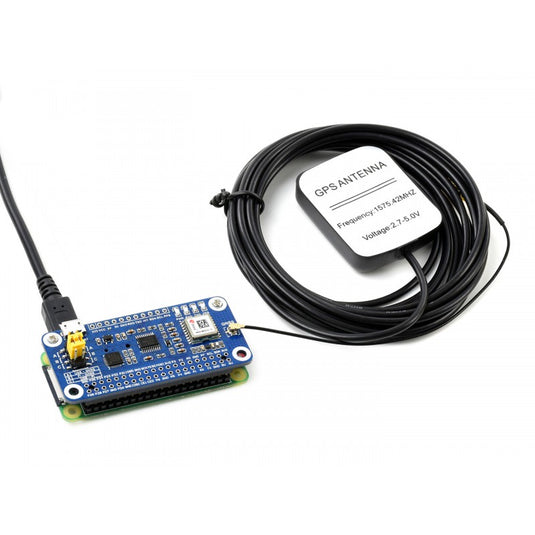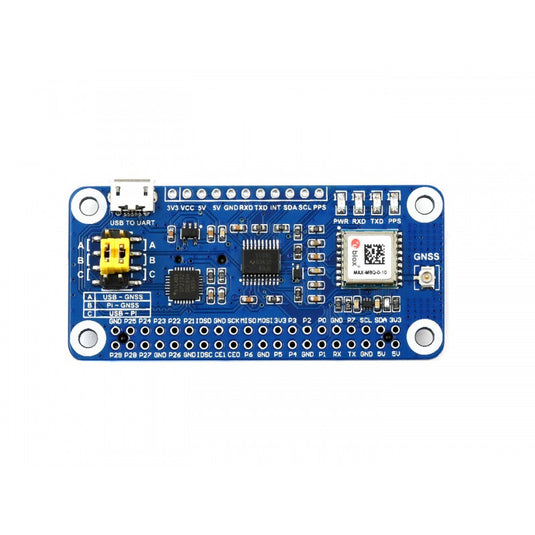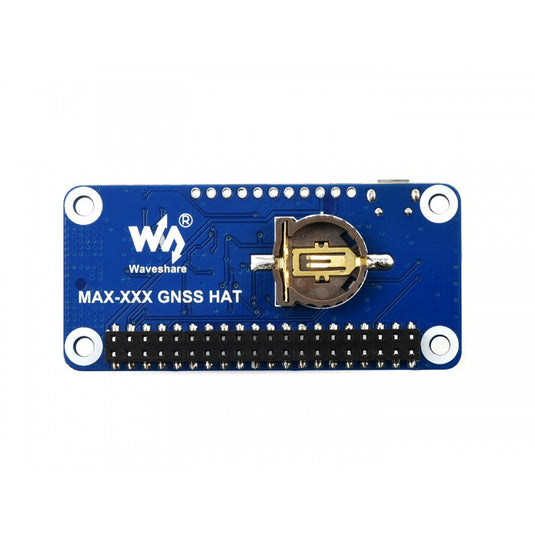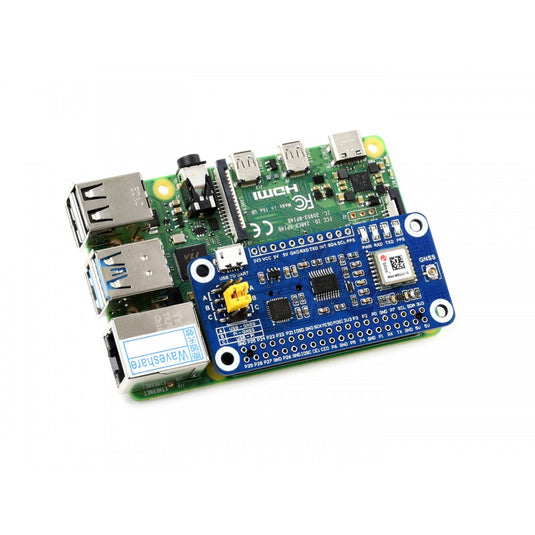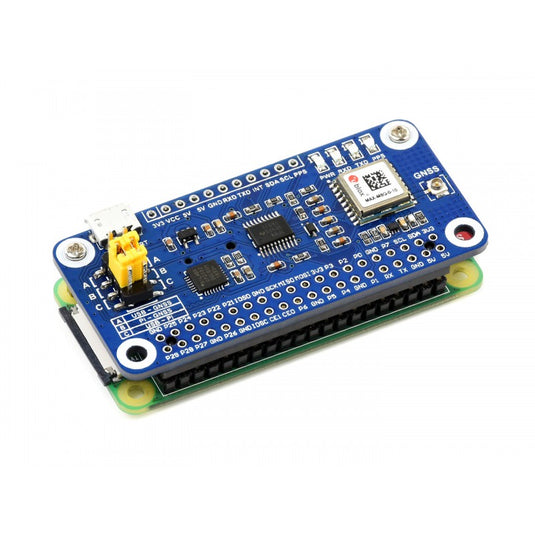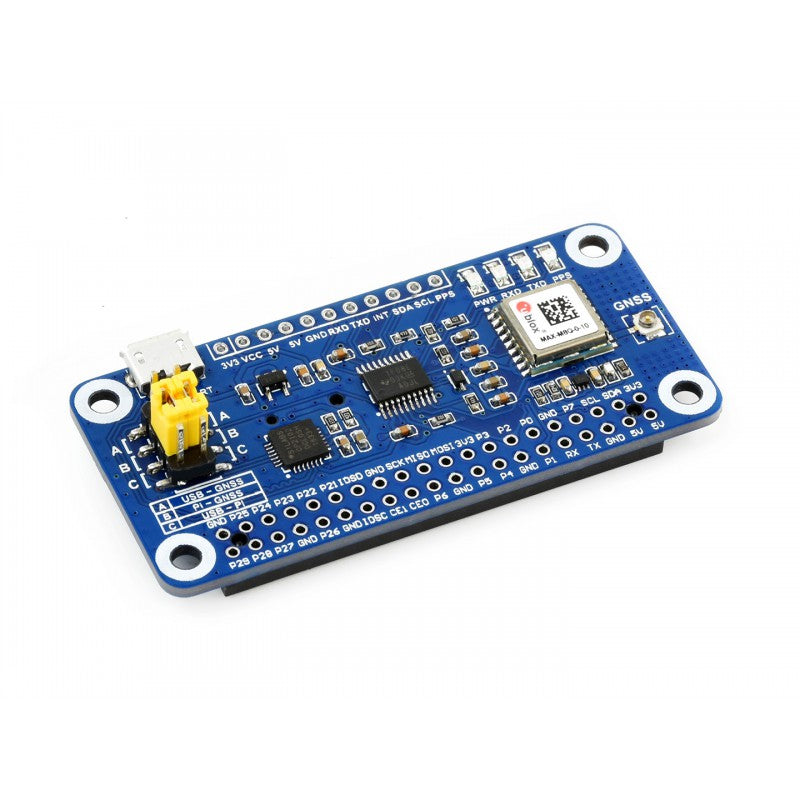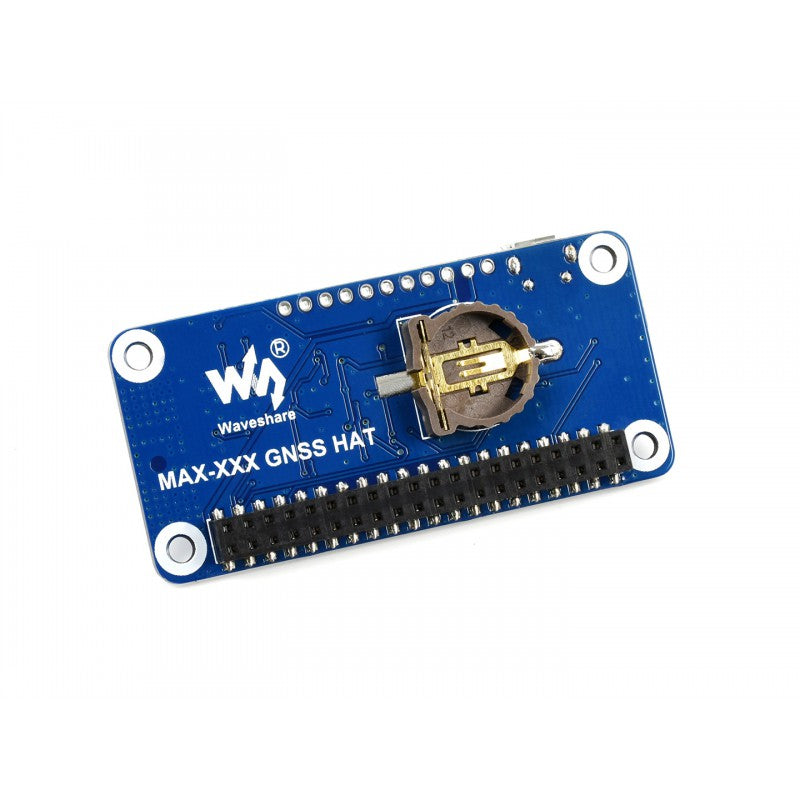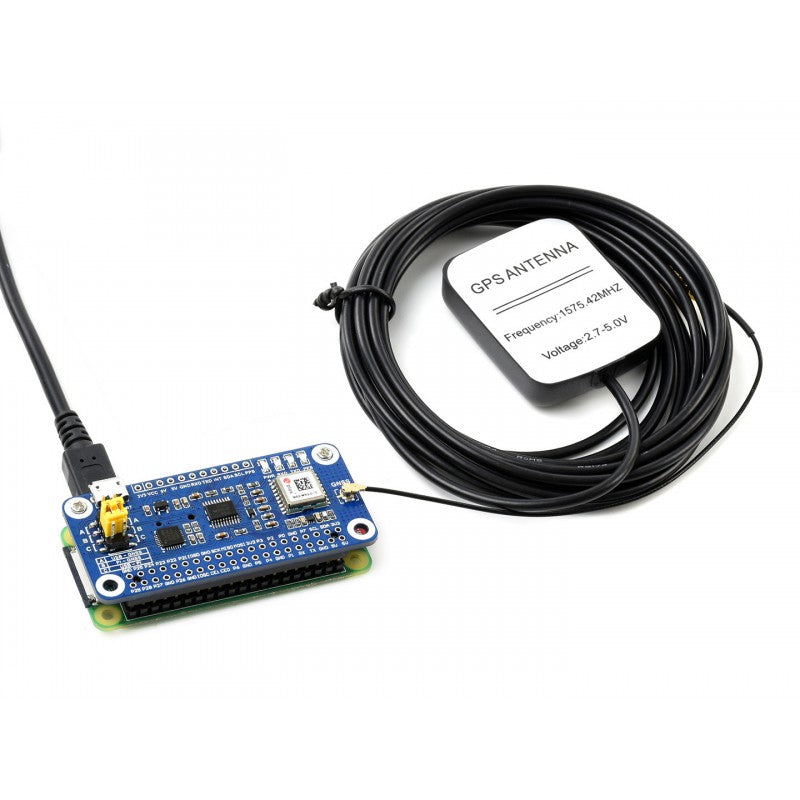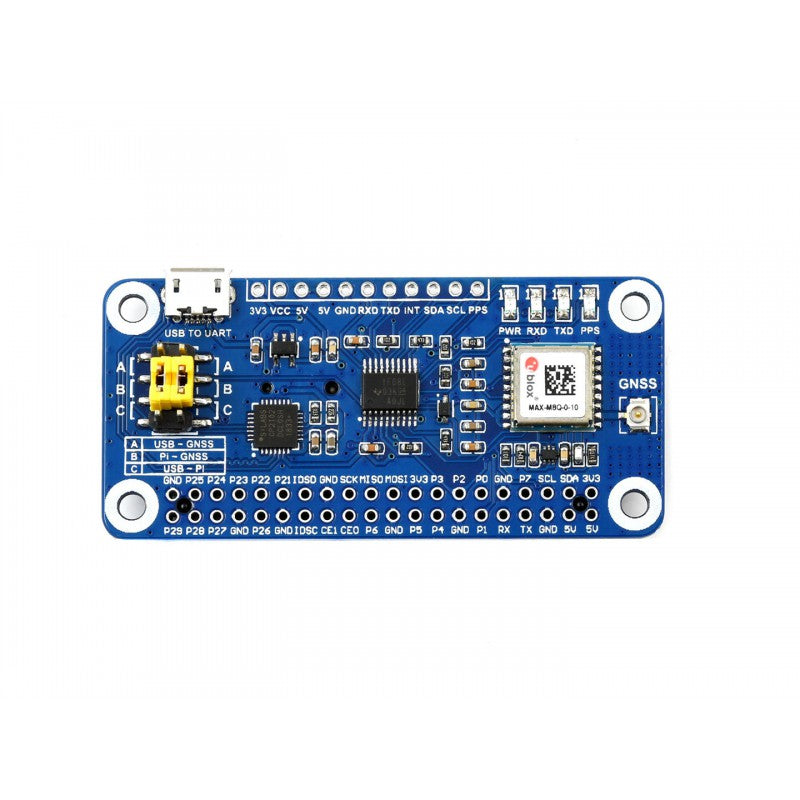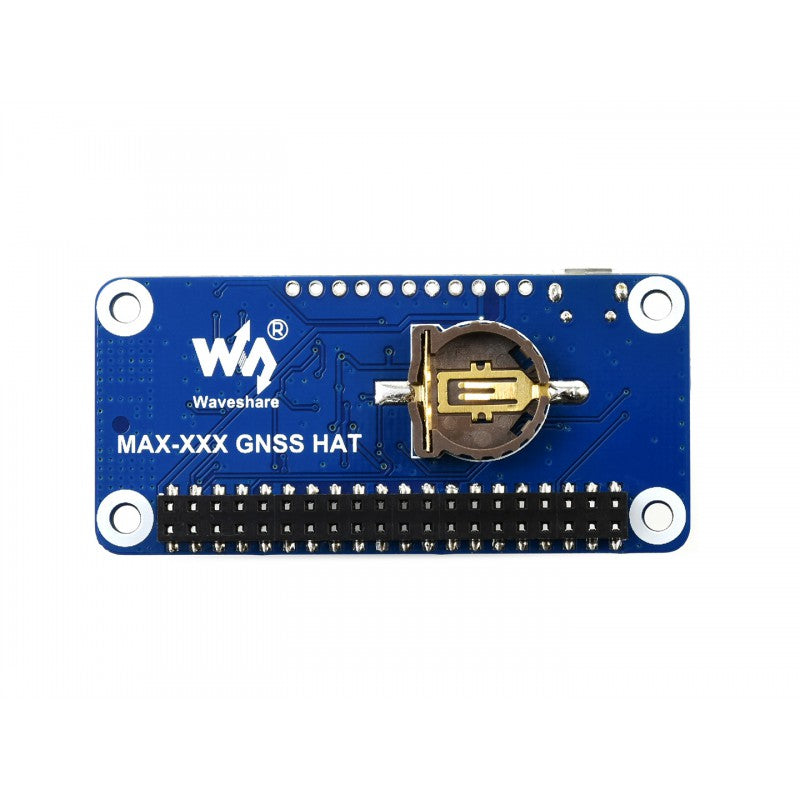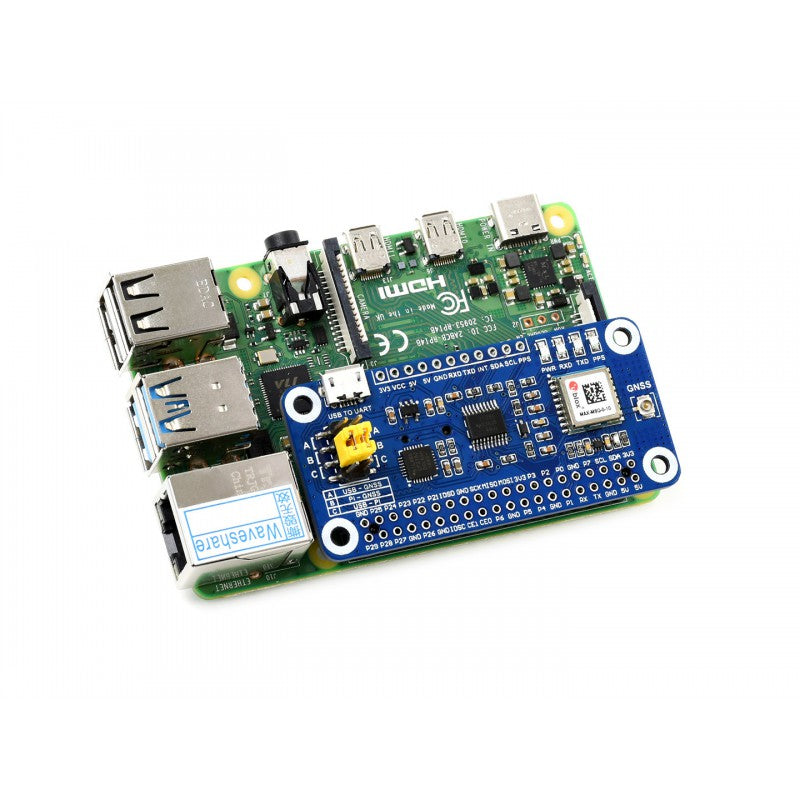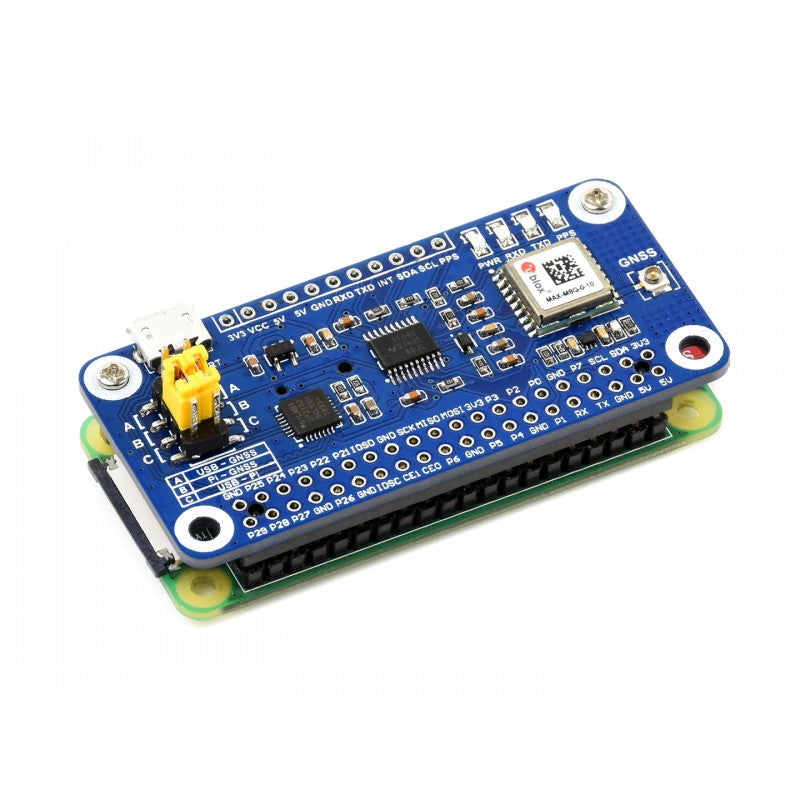 MAX-M8Q GNSS HAT
GNSS Module Based On MAX-M8Q For Raspberry Pi
Accurate & Fast Positioning With Minor Drifting, Low Power Consumption, Outstanding Ability For Anti-Spoofing & Anti-Jamming
This is a Raspberry Pi GNSS HAT based on MAX-M8Q with multi-constellation receiver support, which means up to 3 types of GNSS satellite systems can be used together, including GPS, Beidou, Galileo, and GLONASS. It also support augment systems like SBAS, QZSS, IMES, and D-GPS. It features accurate & fast positioning with minor drifting, low power consumption, outstanding ability for anti-spoofing & anti-jamming, and so on.
By simply attaching it onto the Pi, it is fairly easy to enable GNSS capability for your Raspberry Pi.
Features:
Multi-constellation receiver support, concurrent reception of up to 3 types of GNSS satellite systems from GPS, Beidou, Galileo, and GLONASS, and still retains low power consumption
Augment systems support, including SBAS, QZSS, IMES, D-GPS, improving the positioning performance of service location
A-GNSS (Assisted GNSS) support, reducing the first positioning time when powered up, improving the acquisition sensitivity
Features -167dBm navigating sensitivity and outstanding ability for anti-spoofing & anti-jamming, supports geo-fencing
Supports U-Center, an easy way to config the module
Standard Raspberry Pi 40PIN GPIO extension header, supports Raspberry Pi series boards, Jetson Nano
Onboard USB TO UART converter CP2102 for serial debugging
Breakouts the module's UART and I2C interface, for connecting with host boards like Arduino/STM32
Baudrate range: 4800~921600bps (9600bps by default)
Supports DDC (I2C compliant) interface: up to 400KHz (max)
Onboard battery holder, supports ML1220 rechargeable cell, for preserving ephemeris information and hot starts
4x LEDs for indicating the module operating status
Comes with development resources and manual (examples for Raspberry Pi/Jetson Nano/Arduino/STM32)
Specifications
GNSS SPECIFICATIONS
MAX-M8Q
GPS & GLONASS
GPS
GLONASS
BeiDou
Galileo
Frequency band
72x u-blox M8 engine channels
GPS L1C/A, SBAS L1C/A, QZSS L1C/A, QZSS L1 SAIF,
GLONASS L1OF, BeiDou B1I, Galileo E1B/C
Horizontal positioning accuracy
2.5m CEP
2.5m CEP
4.0m CEP
3.0m CEP
-
Max navigation update rate
10Hz
18Hz
18Hz
18Hz
18Hz
Time-To-First-Fix
Cold starts
26s
29s
30s
34s
45s
Hot starts
1s
1s
1s
1s
1s
Aided starts
2s
2s
2s
3s
7s
Sensitivity
Tracking and navigating
-167 dBm
-166 dBm
-166 dBm
-160 dBm
-159 dBm
Re-acquisition
-160 dBm
-160 dBm
-156 dBm
-157 dBm
-153 dBm
Cold starts
-148 dBm
-148 dBm
-145 dBm
-143 dBm
-138 dBm
Hot starts
-157 dBm
-157 dBm
-156 dBm
-155 dBm
-151 dBm
PPS accuracy
RMS
30ns
30ns
30ns
30ns
30ns
99%
60ns
60ns
60ns
60ns
60ns
PPS frequency
0.25Hz…10MHz (configurable)
Velocity accuracy
0.05m/s
Heading accuracy
0.3 degree
Operational limits
Acceleration (max): 4g
Altitude (max): 50000m
Velocity (max): 500m/s
OTHER SPECIFICATIONS
Communication interface
UART (4800~921600bps, 9600bps by default), I2C (max 400KHz)
Update rate
1Hz (default), 18Hz (max)
Protocol
NMEA 0183 Version 4.0 (V2.1, V2.3 or V4.1 selectable), UBX, RTCM 2.3
Power supply
5V
Overall current
<40mA@5V (Continue mode)
Module current
23mA@3V (Continue mode, tracking status)
Operating temperature
-40℃ ~ 85℃
Dimensions
65mm × 30.5mm
Standard Raspberry Pi 40PIN GPIO
Compatible With Raspberry Pi Series Boards, Jetson Nano
Multi-Constellation Receiver Support
Concurrent Reception Of Up To 3 Types Of GNSS Satellite Systems, And Still Retains Low Power Consumption
Supports GPS, Beidou, Galileo, And GLONASS
Augment Systems Support
Augment System Is Aimed At Improving The Accuracy, Completeness, Reliability, And Availability Of Positioning And Navigation
Supports Augment Systems Including SBAS, QZSS, IMES, D-GPS
Geo-Fencing Support
Features -167dBm Navigating Sensitivity, Outstanding Ability For Anti-Spoofing & Anti-Jamming
Software U-Center Support
An Easy Way To Config The Module
Applications
Ideal For Fleet Management, Asset Tracking, Security Systems, Industrial PDA, GIS App, Etc.
What's On Board
MAX-M8Q module
TXS0108EPWR voltage translator
RT9193-33 power chip
CP2102 USB TO UART converter
Status indicators
RXD/TXD: UART TX/RX indicator
PPS: GPS status indicator
PWR: power indicator
Battery holder
supports ML1220 rechargeable cell, for preserving ephemeris information and hot starts
Raspberry Pi GPIO header
for connecting with Raspberry Pi
UART, I2C interface
for connecting with other MCUs
USB TO UART port
GNSS antenna connector
UART selection jumper
A: control the MAX-M8Q through USB TO UART
B: control the MAX-M8Q through Raspberry Pi
C: access Raspberry Pi through USB TO UART
Pinout Definition
Dimensions