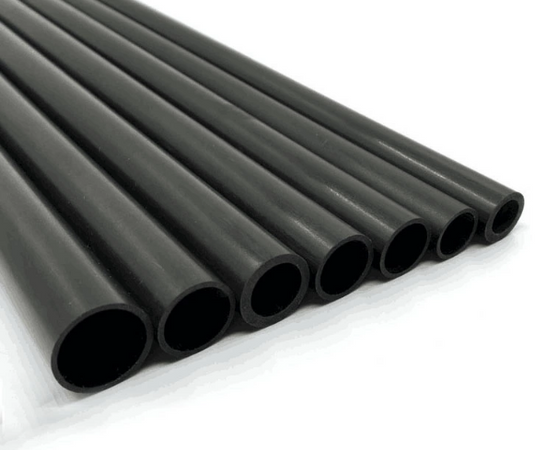 Carbon Fiber Pultruded Tubes are manufactured by pulling continuous carbon fibers combined with a resin matrix through a heated steel forming die. This process is referred to as pultrusion and is used for producing continuous lengths of composite materials with constant cross-sections.
As the carbon fibers are saturated with the resin mixture and then pulled through a die, the hardening of the resin is initiated by the heat from the die and a rigid, cured tube is formed in the shape and size of the die. The majority of the fibers are running in the 0 degree direction, along the length of the tube, to produce an extremely stiff and lightweight tube with a very low coefficient of expansion. This type of construction offers a high stiffness to weight ratio tube with incredible linear strength, due to the orientation of the carbon fibers, and tight outer diameter (OD) tolerances.
Our Pultruded Carbon Fiber Tubes have a matte finish surface and are covered with a light glass scrim to improve structural integrity of the tube.
Uses Include
Aerospace Spars & Beams
UAV Housing Components
Frames & Supports
Structural Components
Interior Design
Automation Equipment
Recreational Equipment