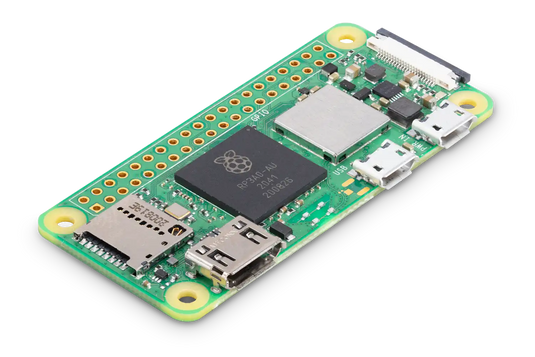 Introducing the Raspberry Pi Zero 2 W, the latest addition to Raspberry Pi's highly affordable lineup of single-board computers. This impressive device serves as the successor to the popular Raspberry Pi Zero W, offering seamless compatibility in terms of form factor, making it a simple drop-in replacement for the original board.
The key highlight of the Raspberry Pi Zero 2 W lies in its powerful performance. It boasts a quad-core 64-bit Arm Cortex-A53 CPU, running at a clock speed of 1GHz. At its core, it features the Raspberry Pi RP3A0 system-in-package (SiP), which integrates a Broadcom BCM2710A1 die and comes equipped with 512MB of LPDDR2 SDRAM. This upgraded processor translates into a remarkable 40% increase in single-threaded performance and an outstanding five times boost in multi-threaded performance when compared to the original single-core Raspberry Pi Zero.
Moreover, the Raspberry Pi Zero 2 W is equipped with impressive connectivity options, including 2.4GHz 802.11 b/g/n wireless LAN and Bluetooth 4.2 support. It also includes Bluetooth Low Energy (BLE) functionality and modular compliance certification, ensuring seamless communication with other devices.
In terms of features, the board is equipped with a microSD card slot, a CSI-2 camera connector, and a USB On-The-Go (OTG) port, adding to its versatility and usability. Additionally, it has an unpopulated footprint designed to accommodate a HAT-compatible 40-pin GPIO header. Powering the device is convenient and straightforward via a micro USB socket. For video output, users can utilize the mini HDMI port, while composite video output can be easily accessed through test points if required. Another notable feature is that the Raspberry Pi Zero 2 W maintains the same form factor as the original Raspberry Pi Zero, allowing it to fit seamlessly into most existing Raspberry Pi Zero cases.
All in all, the Raspberry Pi Zero 2 W offers a compelling package of enhanced performance, robust connectivity, and compatibility, making it an excellent choice for various projects and applications.
Technical Details
Key Features:
Form factor: 65mm × 30mm
Processor: Broadcom BCM2710A1, quad-core 64-bit SoC (Arm Cortex-A53 @ 1GHz)
Memory: 512MB LPDDR2
Connectivity:

2.4GHz IEEE 802.11b/g/n wireless LAN, Bluetooth 4.2, BLE, onboard antenna
1 × USB 2.0 interface with OTG
HAT-compatible 40-pin I/O header footprint
microSD card slot
Mini HDMI port
CSI-2 camera connector

Video: HDMI interface
Composite video
Multimedia:

H.264, MPEG-4 decode (1080p30)
H.264 encode (1080p30)
OpenGL ES 1.1, 2.0 graphics

Input power: 5V DC 2.5A
Operating temperature: -20°C to +70°C
Product Dimensions: 65.0mm x 30.0mm x 5.3mm / 2.6" x 1.2" x 0.2"
Product Weight: 10.0g / 0.4oz
Good product
Good packing. Timely delivery. Soldering quality of headers need improvement. Overall happy and satisfied with the purchase.
Good Quality
Wonderful product and very good packing from Thinkrobotics. Pi zero 2w works faster than pi zero
Good delivery and support assistance