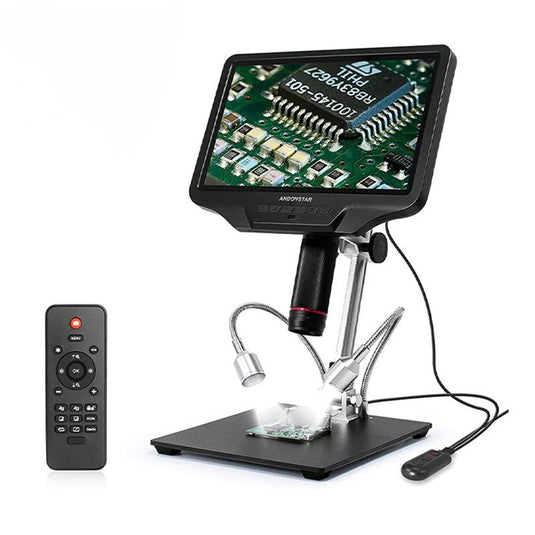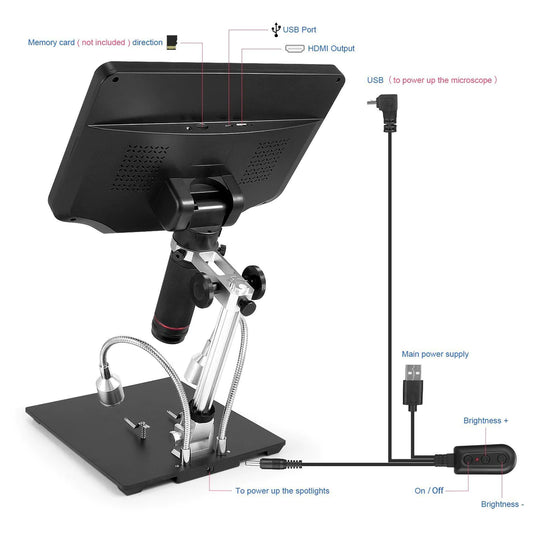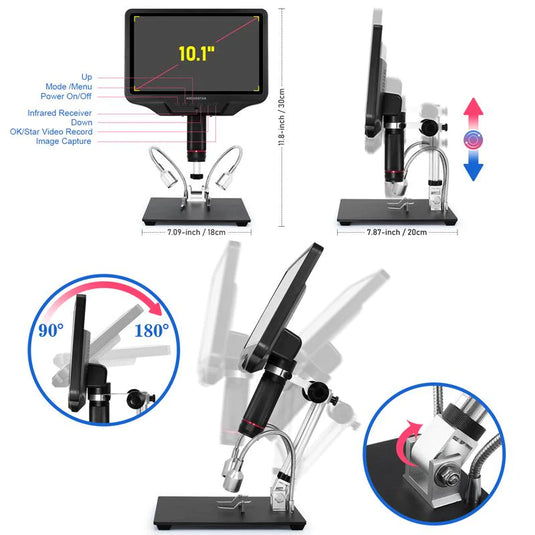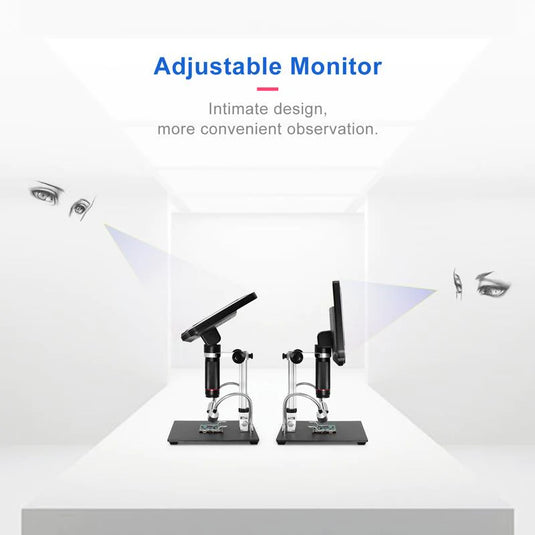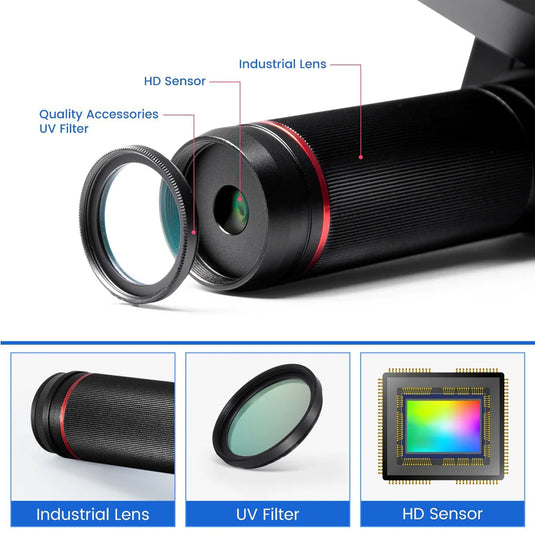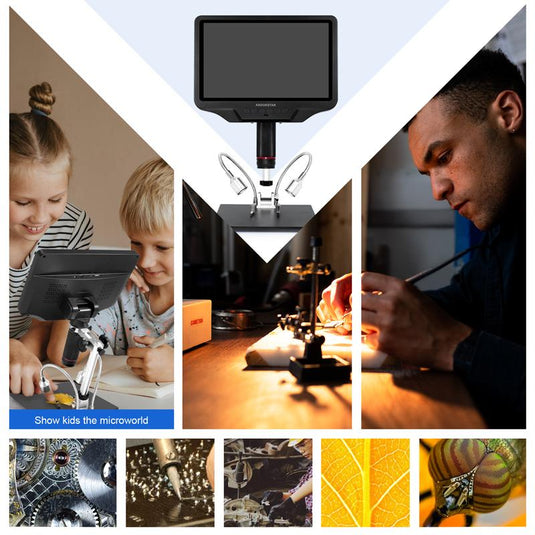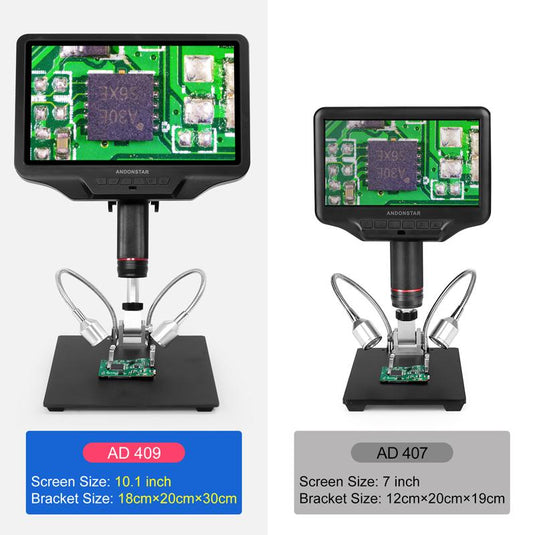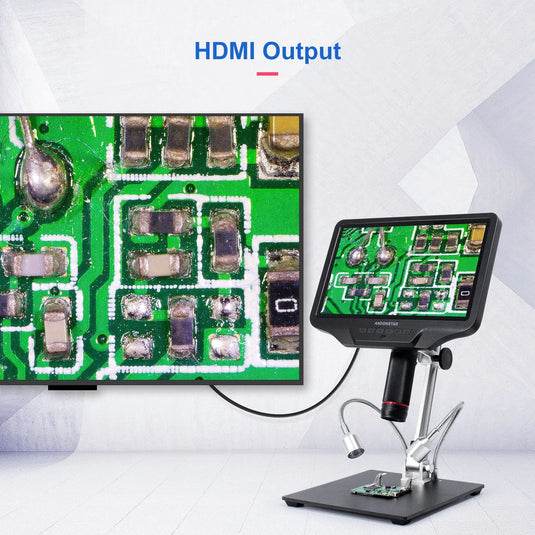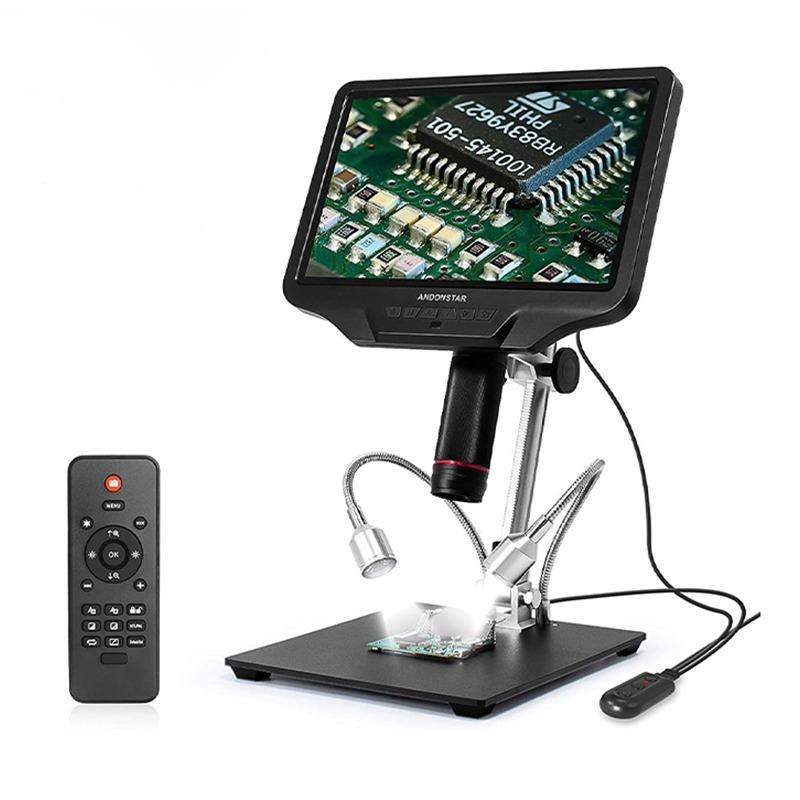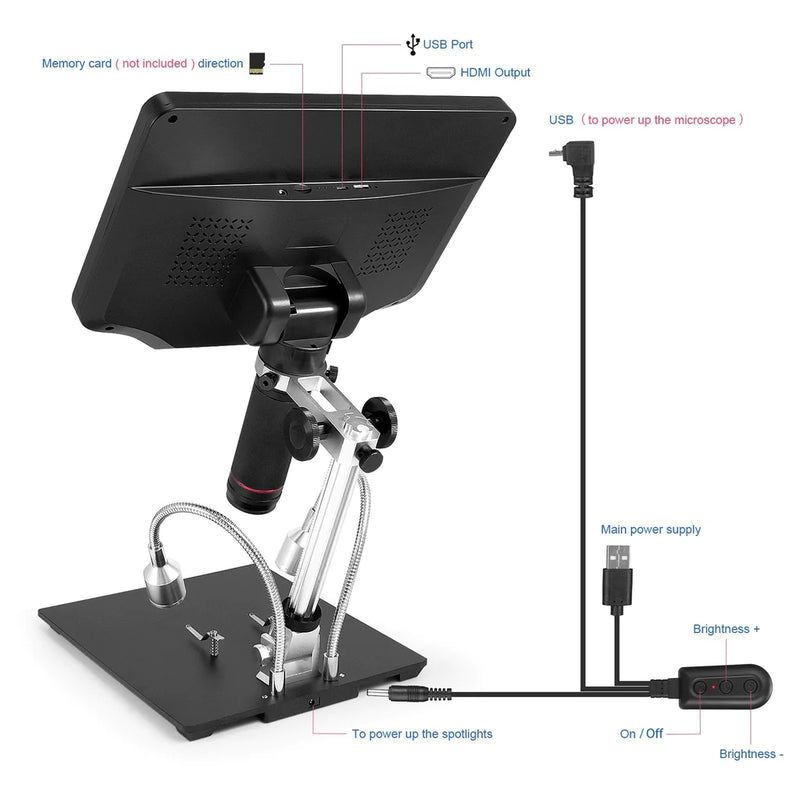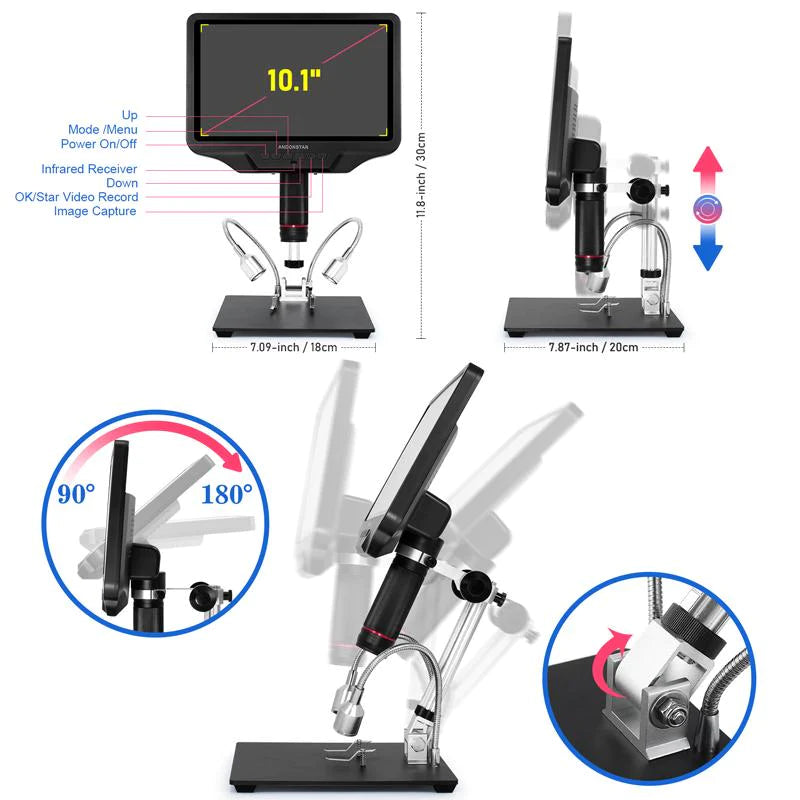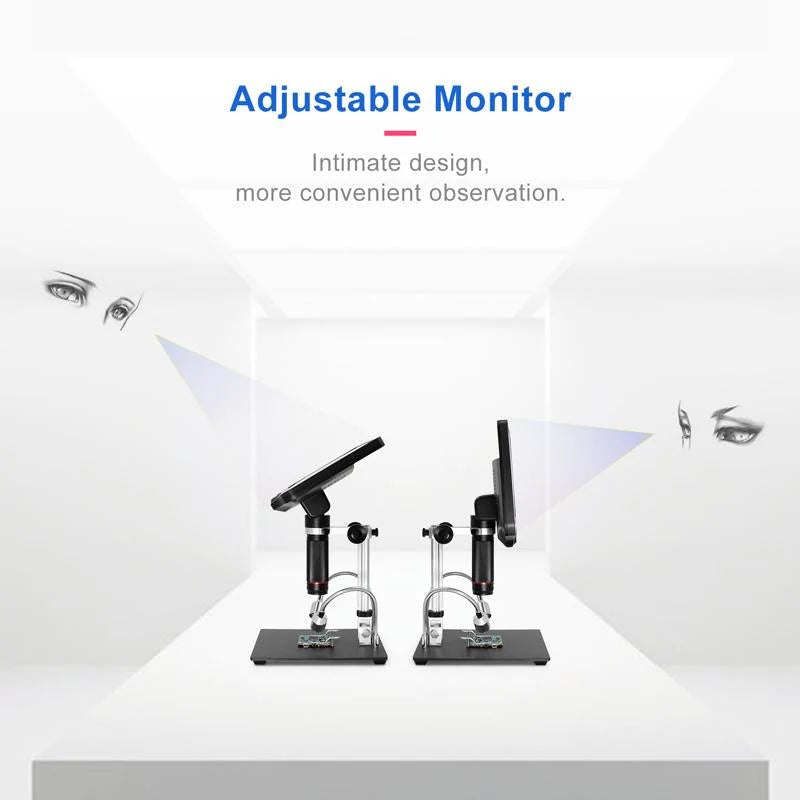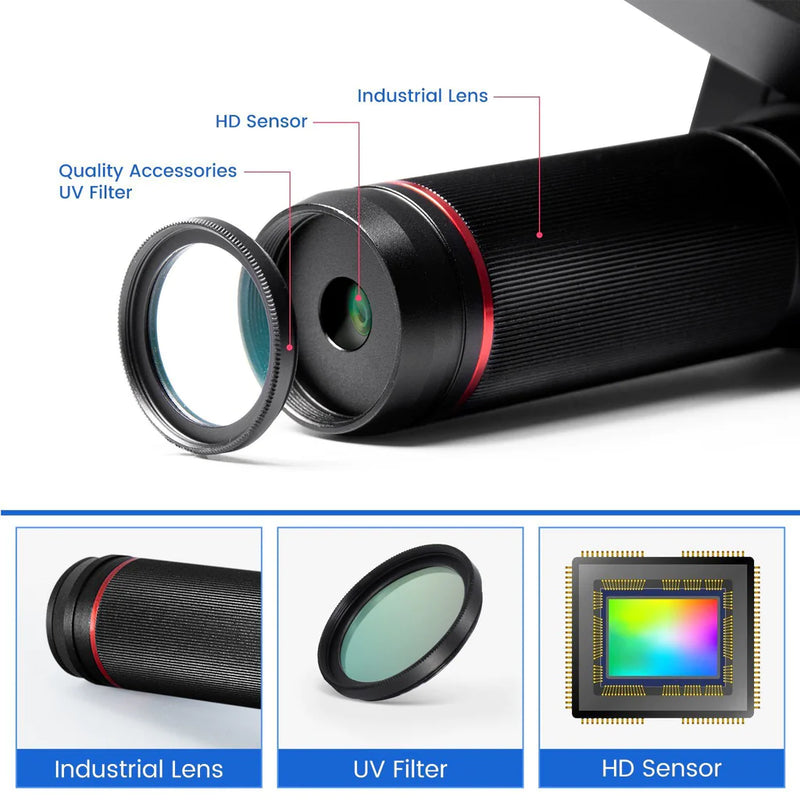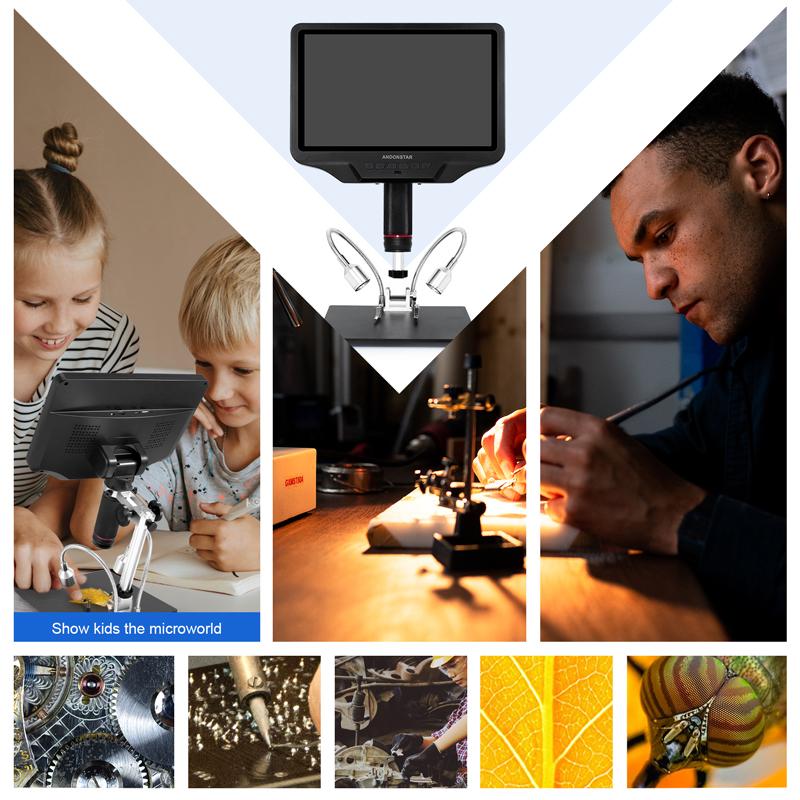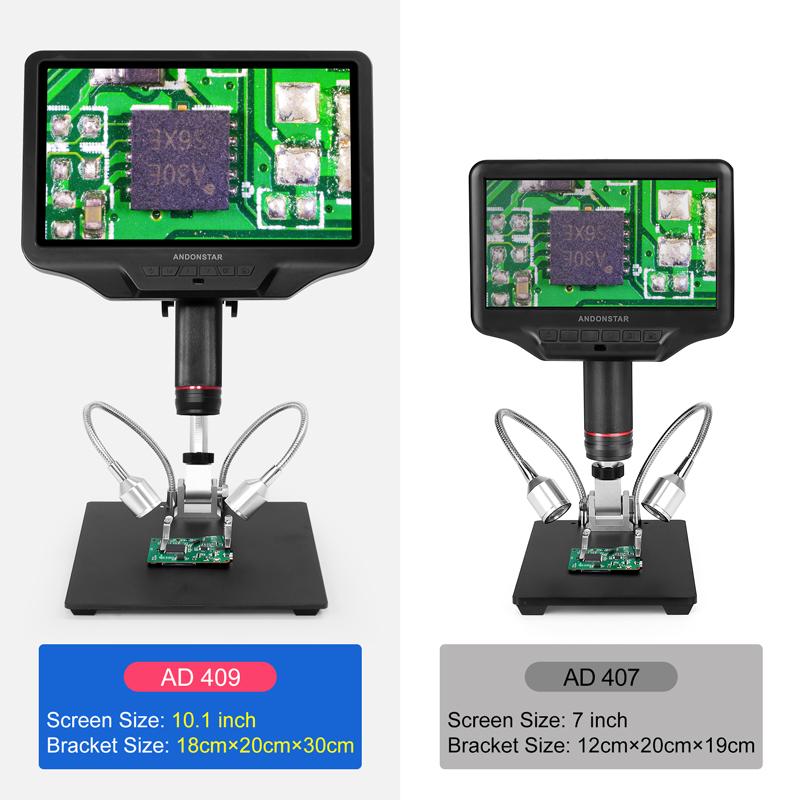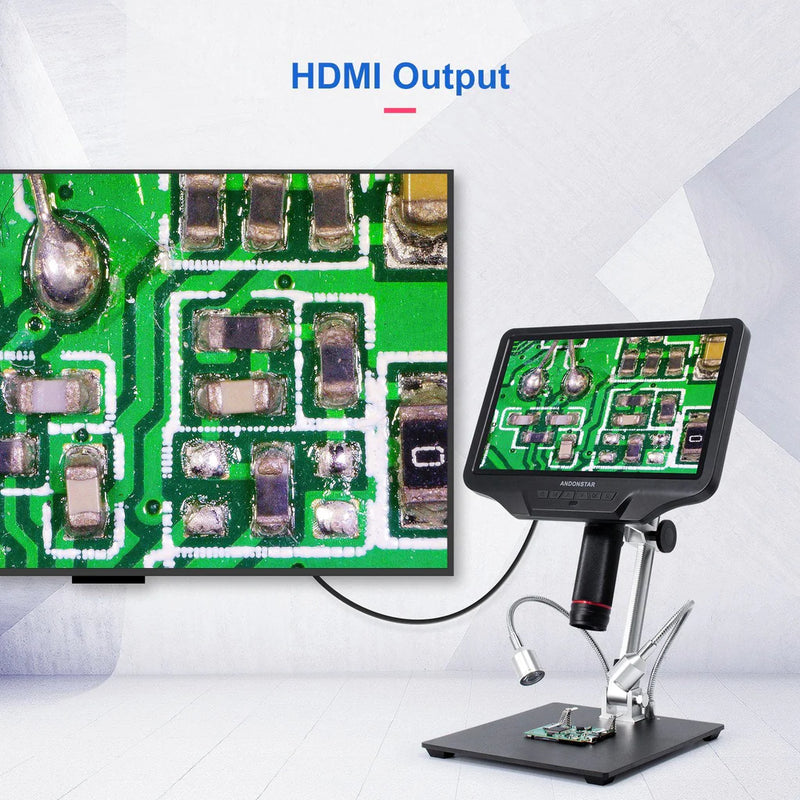 With a 10.1-inch large adjustable LCD screen, the AD409 digital microscope comes larger screen and more advanced firmware than the AD407 digital microscope, providing users with a better PCB inspection experience. It comes with 4 megapixels HD sensor, 2 adjustable LED fill lights, one HDMI cable and switch cable, one IR remote, and one UV filter (already assembled in the lens).
With a high-quality sensor, the HDMI digital microscope has max 4032x3024 (12M 4032*3024) photo resolution and can provide clear and high-quality images. Moreover, the magnification of AD409 can reach up to 300X and allows you to view the smallest solder joints on the large 10.1-inch display or on the external monitor connected with the microscope.
The AD409 supports the PC connection, but only for Windows 7/8/10. The PC software with measurement is also supported. Last but not least, the AD409 digital microscope is able to be connected to mobile phones and tablets. By connecting with WiFi, the digital microscope can be used as a phone or iPad, permitting users to send images and photos from the microscope to a computer or another device.

(Note: The WiFi function is under the test and is still unstable. As to the measure App, please download the software "My Measure App" at Google App Store.)


Instructions for Measurement with a PCB based software can be found here!
10.1-inch adjustable LCD screen;

4 MP image sensor, industrial lens;

PC/Mobile/Tablet connection supported; 

WIFI supported;

With measurement software, easy and convenient measuring 
Up to 120FPS frame rate; 

real-time play via HDMI w/o recording; 

UV filter, protect the lens from being dirty or damaged during soldering.

 

Adjustable stand, the microscope stand can move backward and forward, providing enough soldering working space.
New Column
New Column

UHD2880x2160 24FPS;

FHD1920x1080 60FPS/30FPS;  

HD1280x720 120FPS;

MP4; real-time play via HDMI w/o recording;

Up to 300 times (HDMI monitor 27 inches)

Max 4032x3024 (12M 4032*3024) 

Microscope-SD card, up to 32G

Yes, for Windows 7/8/10, PC software with

Measurement

Mobile phone, tablet terminal support

Support WiFi connection and measurement
1x Microscope
1x Metal stand
1x UV filter (already assembled in the lens)
1x Instructions
1x IR remote
1x Switch cable
1x Power adapter
1x USB cable
1x HDMI cable 
Need help with Instalation
Request technical help to install the device.
Andonstar AD409 PCB Soldering 10.1-Inch Display HDMI Digital Microscope