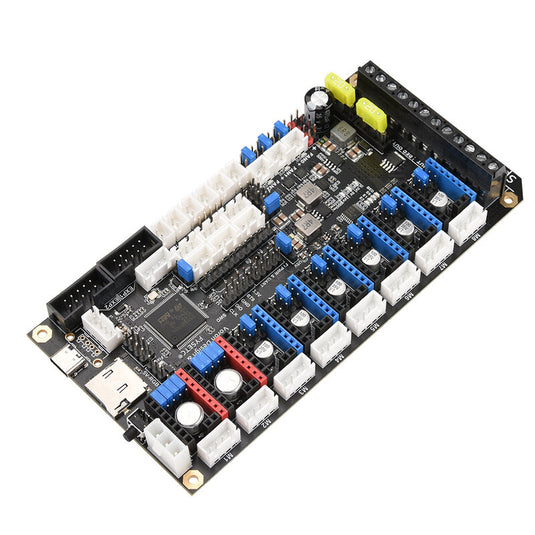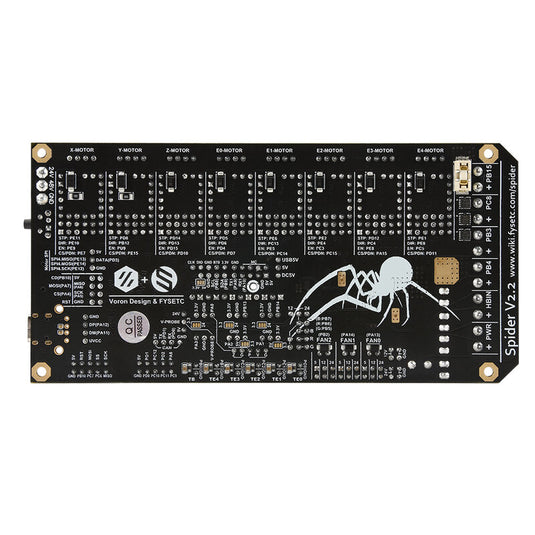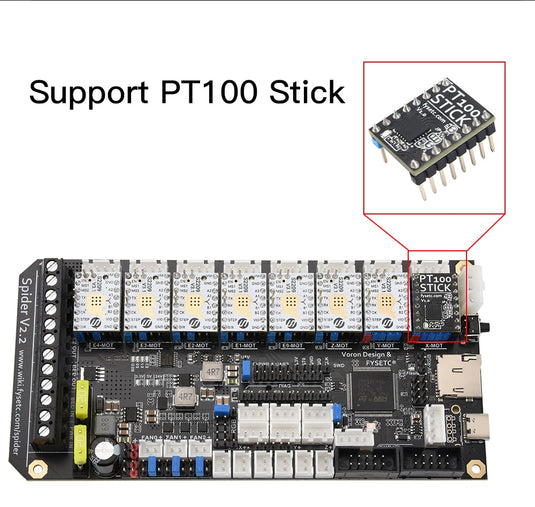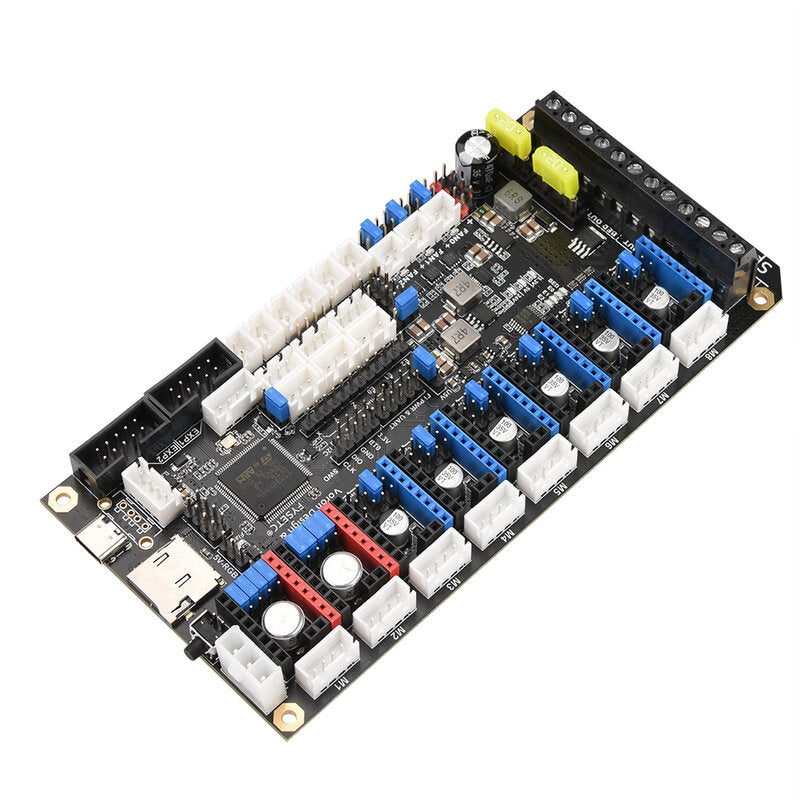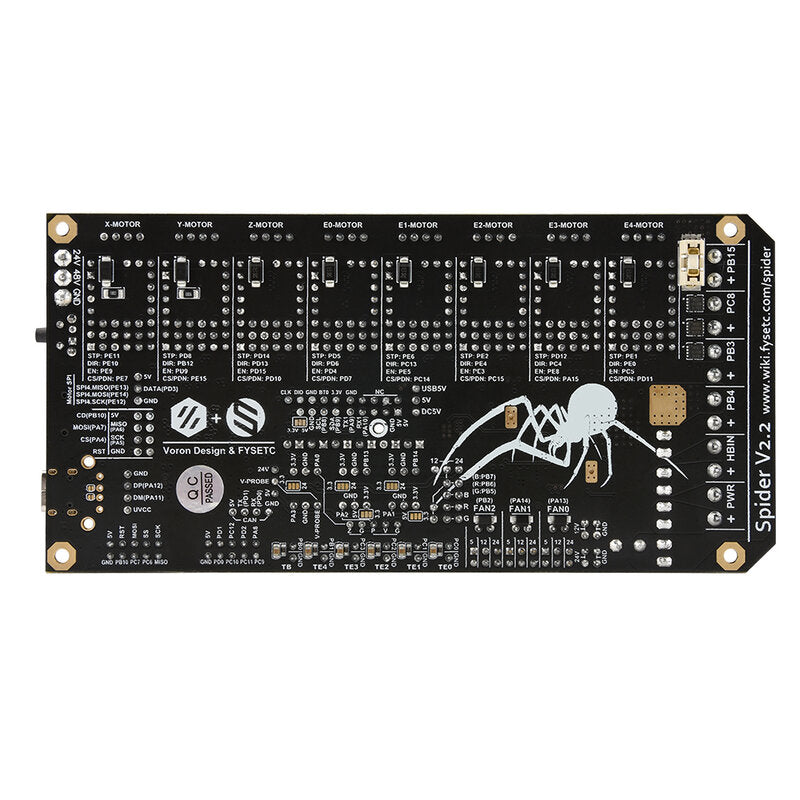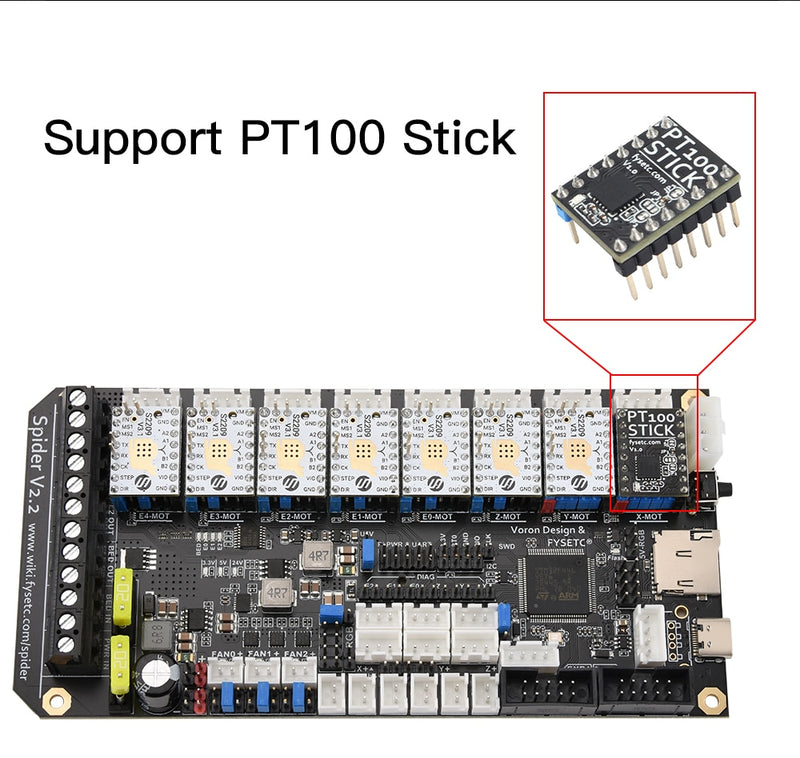 Fysetc Spider 446 V2.2 3D Printer Controller Board with 8x TMC2209 Drivers for Voron
Compact, feature packed, and designed with Voron in mind, the FYSETC Spider offers flexibility and plenty of power with a small foot print. Supports up to 8 stepper motors at up to 60 volts via a range of compatible drivers in UART/SPI modes. Compatible with Marlin & Klipper.
Features:
Compact size: 155.3mm x 76.5mm
Based on STM32F446 180Mhz, all IOs can withstand 5V voltage
8 TMC stepper drivers support, with UART & SPI support
Improved TMC jumper settings again,simpler and easier
28V input max,12V@5A DC-DC,5V@8A DC-DC (Especially for Raspberry Pi), 3.3V@0.8A LDO
Two car fuses for hot bed input and main power input
Limit switch socket 24V/5V/3.3V optional, ready for more other equipment, such as - inductive sensor, BL-Touch
XH2.54 connectors
10x PWM capable power mosfet outputs (1 for HotBed, 3 for Heat-End, 3 for fans, 3 for RGB LED strip)
3pin temperature header, you can use thermistor or thermocouple (requires AD597 module)
Up to 8 ways PWM fans (only use 1 extrueder and no 12V/24V RGB used ),2 ways RGB led(12V & 24V optional) ,1 way 5V-RGB led (NEO-PIXEL/WS2812)
RepRapDiscount SmartController compatible pin header on board
UART1-Raspberry Pi pin header (including 5V@8A power supply)
2X4 PinHeader Out for SD Card moudle
Onboard micro-SD card
Type-C and Type-B USB connector optional
EXP1 & EXP2 have more multiplexing functions, such as USART, I2C, CAN
SD card & USB upload support
A 4.7kOhm 0.1% temperature sensor pull up resistor is used, PT1000 can be connected directly. For PT100, an amplifier board must be used.
Additional Accessories: