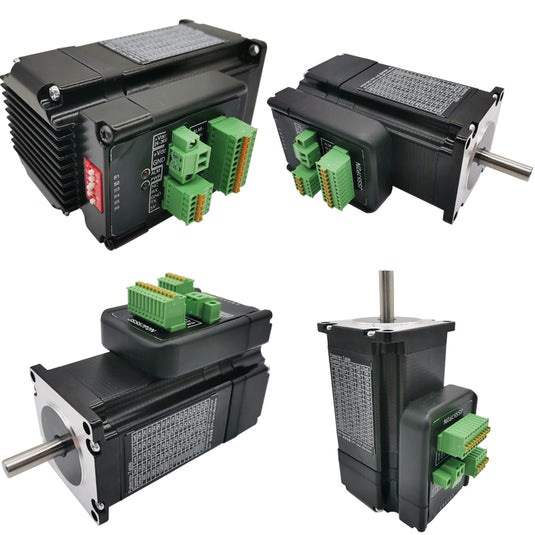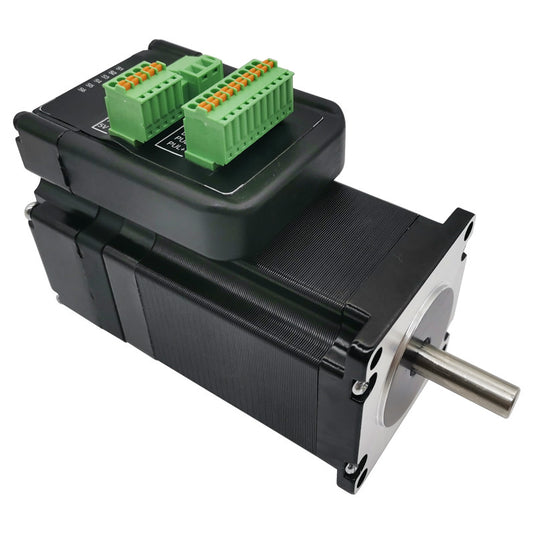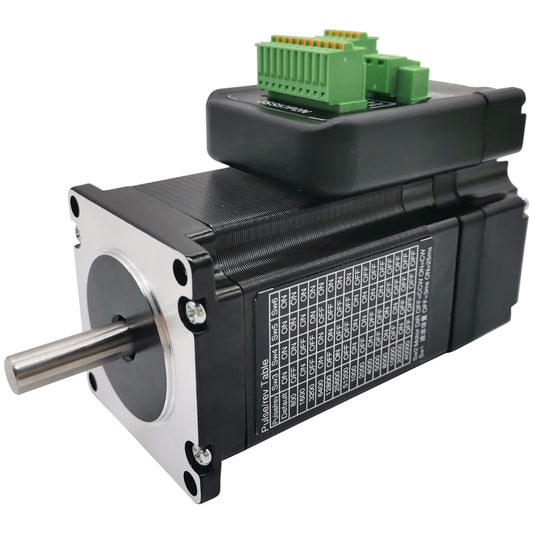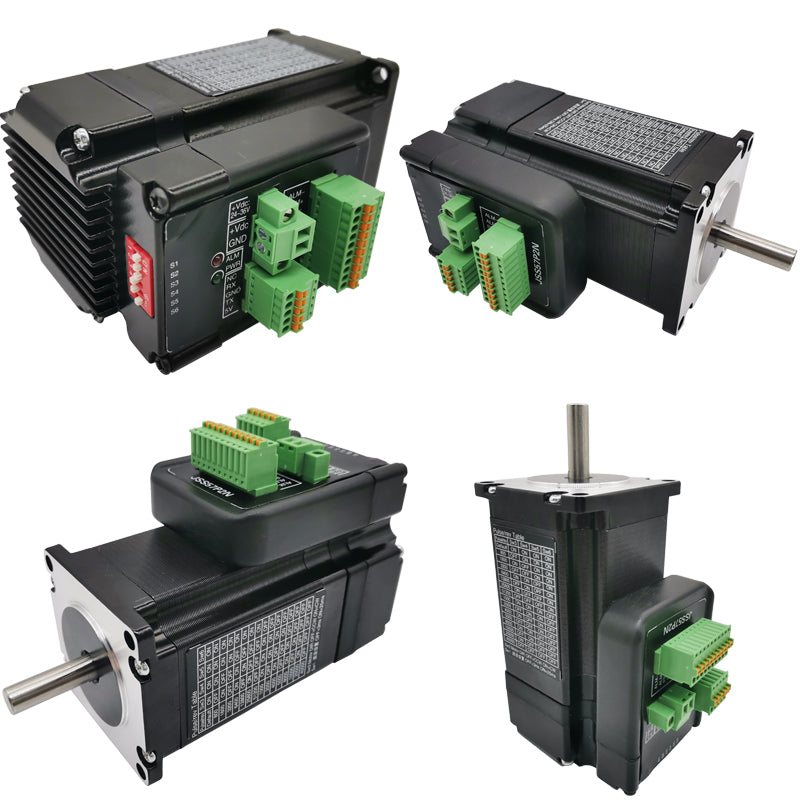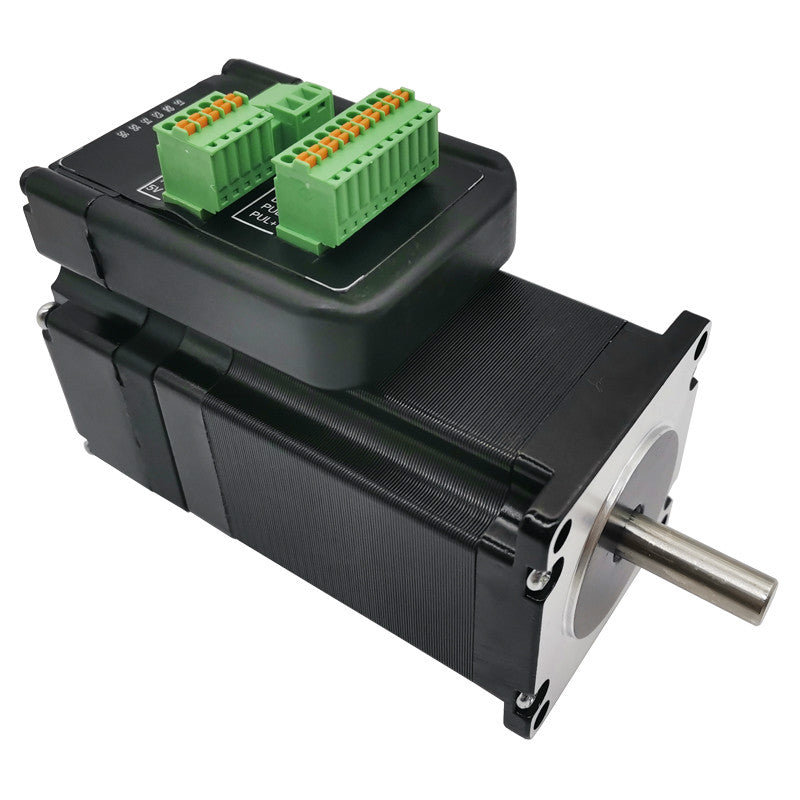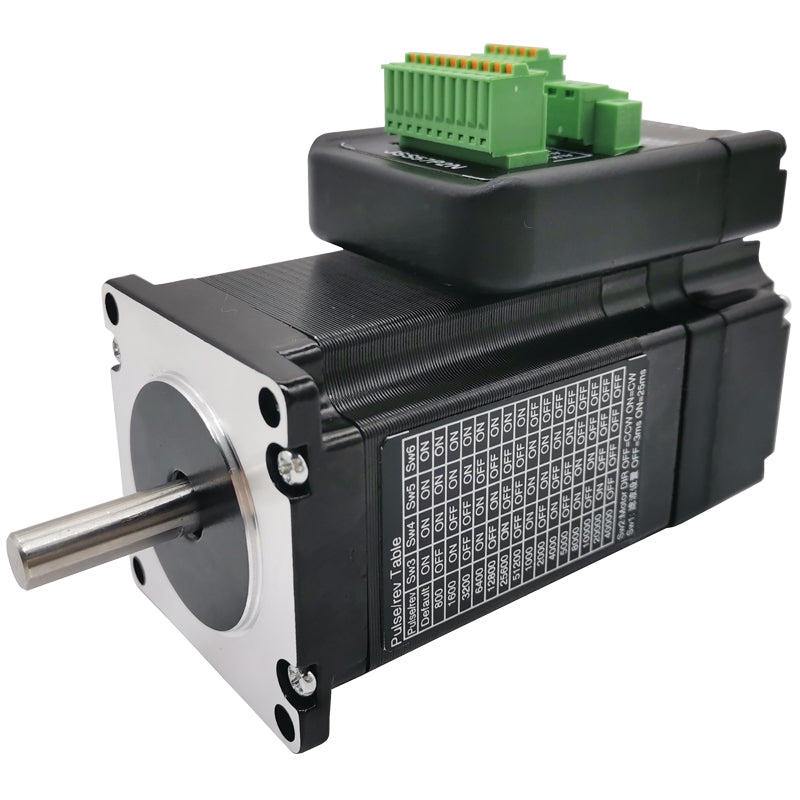 NEMA23 Closed Loop Integrated Stepper Motor Kit

JSS57 is a new motor-driven integrated hybrid servo drive system with communication function. Using a new generation of 32-bit DSP control technology and closed-loop control technology, it can prevent out-of-step and ensure the accuracy of the product; High-speed torque attenuation is much lower than traditional open-loop drive, which can greatly improve the high-speed performance and torque of stepper motor. Load-based current control technology can effectively reduce motor temperature rise and extend motor life. Built-in position and alarm output Signal, convenient for monitoring and control of the host computer; The position error alarm function ensures the safe operation of the processing equipment. It is an ideal upgrade for traditional open-loop stepper drives and can replace some traditional AC servo systems at a price of only 50% of the AC servo system.
Characteristics
Adopt advanced 32-bit motor control dedicated DSP chip and vector closed-loop control technology;;
The default work is in closed loop mode, no loss of step, and it also supports working in open loop mode.;
Increase the output torque and running speed of the motor;
The current level is intelligently adjusted according to the load, reducing the temperature rise of the motor, locking the current, and adjusting the closed-loop peak current.;
Adapt to various mechanical load conditions (including low-rigidity loads such as pulleys and pulleys) without adjusting the gain parameters;;
The position command smoothing filter can be set, the motor runs smoother, the vibration is lighter, and the acceleration and deceleration dynamic performance is improved.;
Zero-speed static capability without vibration after positioning;
Support single and double pulse input, pulse response frequency up to 200KHZ;
Support 15 fixed subdivisions, and support software to set any subdivision (200~65535);
Support modbus RTU protocol on RS232, position and speed control controlled by communication;
Support monitoring of motor operating conditions, including speed, position deviation, bus voltage, operating current, etc.
Voltage range: DC+24V~48V;Ideal voltage is 36V
With overcurrent, overvoltage, positional tolerance and other protection;
Typical application
Suitable for all kinds of small and medium-sized automation equipment and instruments, such as industrial robots, textile machinery, special industrial sewing machines, wire stripping machines, marking machines, cutting machines, laser phototypesetting, plotters, CNC machine tools, engraving machines, automatic assembly equipment, etc. Excellent application in devices where users expect low noise and high speed.
Datasheet can be found here. And Windows based control software can be found here.
Motor Parameters:
Model: JSS57P1.2N

Step Angle: 

1.8

°

Rated Current: 4.2A
Rated Voltage: 1.68VDC
Phase Resistance: 0.4 ± 10%Ω
Phase Inductance: 1.2 ± 20%mH
Holding Torque: 1.2 N.m 
Surface Treatment: Black Electrophoresis
Dielectric Strength: 500VAC / 5mA / 1min
Insulation Resistance: ≥100M Ω / 500VDC
Insulation: Class B
Motor Length: 82mm
Total Length: 103mm
Encoder Resolution: 1000 pulse per rotation
Shaft Radial Play 0.02Max.(450g-load)
Shaft Axial Play 0.08Max.(450g-load)
 
Model: JSS57P2N

Step Angle: 

1.8

°

Rated Current: 4.2A
Rated Voltage: 2.1VDC
Phase Resistance: 0.5 ± 10%Ω
Phase Inductance: 1.8 ± 20%mH
Holding Torque: 2 N.m 
Surface Treatment: Black Electrophoresis
Dielectric Strength: 500VAC / 5mA / 1min
Insulation Resistance: ≥100M Ω / 500VDC
Insulation: Class B
Motor Length: 118mm
Total Length: 139mm
Encoder Resolution: 1000 pulse per rotation
Shaft Radial Play 0.02Max.(450g-load)
Shaft Axial Play 0.08Max.(450g-load)
Model: JSS57P3N

Step Angle: 

1.8

°

Rated Current: 4.0A
Rated Voltage: 3.6VDC
Phase Resistance: 0.9 ± 10%Ω
Phase Inductance: 4.0 ± 20%mH
Holding Torque: 3 N.m 
Surface Treatment: Black Electrophoresis
Dielectric Strength: 500VAC / 5mA / 1min
Insulation Resistance: ≥100M Ω / 500VDC
Insulation: Class B
Motor Length: 156mm
Total Length: 177mm
Encoder Resolution: 1000 pulse per rotation
Shaft Radial Play 0.02Max.(450g-load)
Shaft Axial Play 0.08Max.(450g-load)


DRAWINGS
JSS57P1.2N
JSS57P2N
JSS57P3N
Electrical Characteristics
| | |
| --- | --- |
| Power supply | DC36VRecommended power supply DC36V |
| Output current | Peak 6.0A (current varies with load) |
| Logic input current | 10mA7~16mA, recommended 10mA |
| Pulse frequency | 0~200KHz |
| Encoder line number | 1000 |
| Insulation resistance | >=500MΩ |
Environmental Parameters
cooling method

Natural cooling or external heat sink

Use environment

Use occasion

Try to avoid dust, oil and corrosive gases

Temperature

0~40℃

Humidity

40~90%RH

Vibration

5.9m/s2Max

Storage temperature

-20℃~80℃

weight

About 1.3Kg
Microstep selection:
| | | | | |
| --- | --- | --- | --- | --- |
| Micorstep/rev | SW3 | SW4 | SW5 | SW6 |
| Default(400) | on | on | on | on |
| 800 | off | on | on | on |
| 1600 | on | off | on | on |
| 3200 | off | off | on | on |
| 6400 | on | on | off | on |
| 12800 | off | on | off | on |
| 25600 | on | off | off | on |
| 51200 | off | off | off | on |
| 1000 | on | on | on | off |
| 2000 | off | on | on | off |
| 4000 | on | off | on | off |
| 5000 | off | off | on | off |
| 8000 | on | on | off | off |
| 10000 | off | on | off | off |
| 20000 | on | off | off | off |
| 40000 | off | off | off | off |