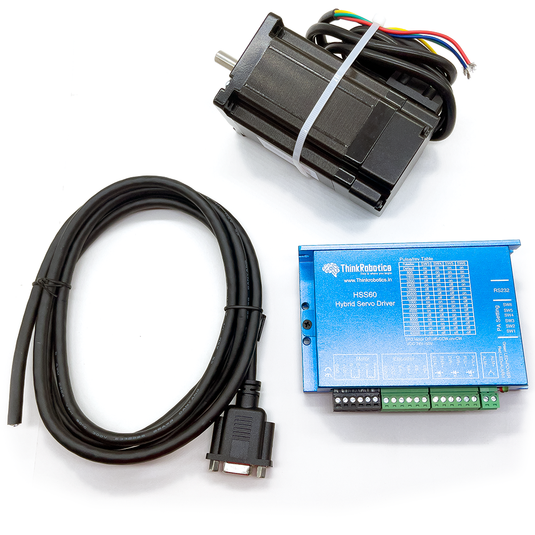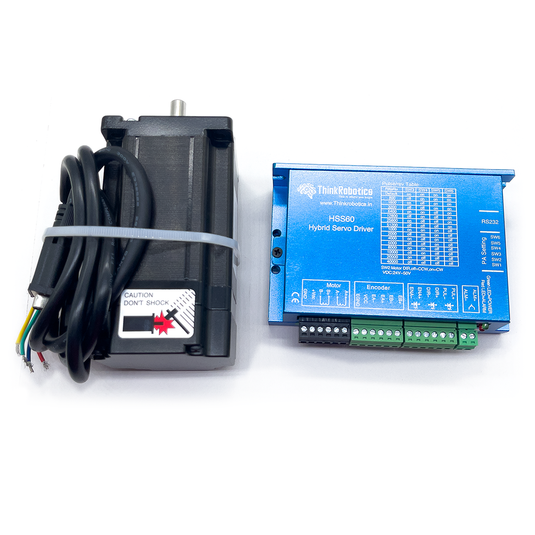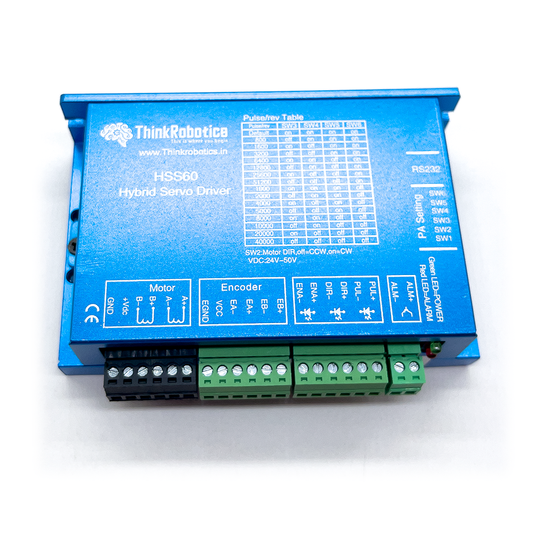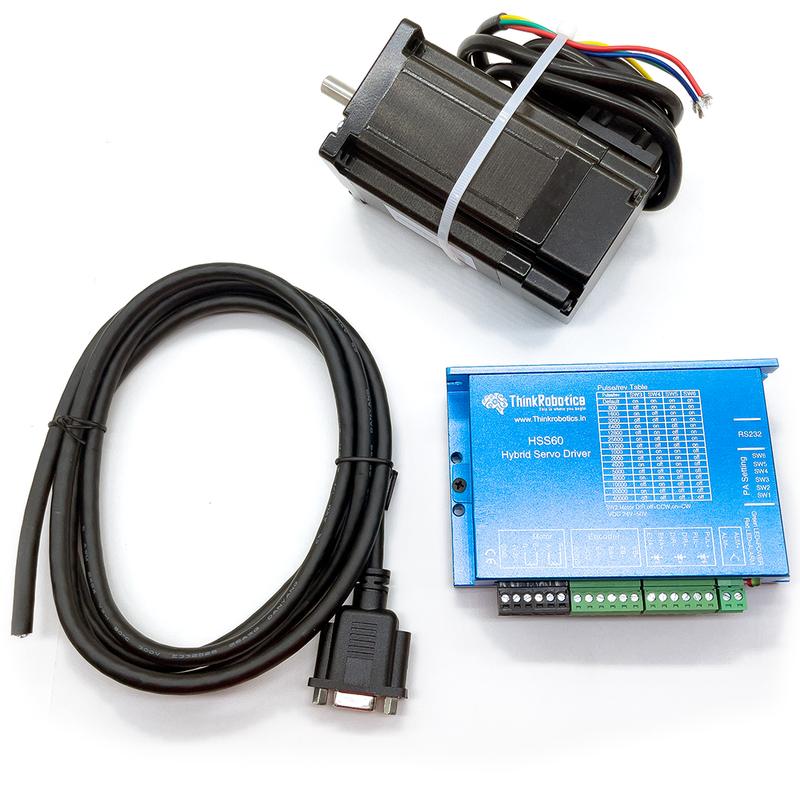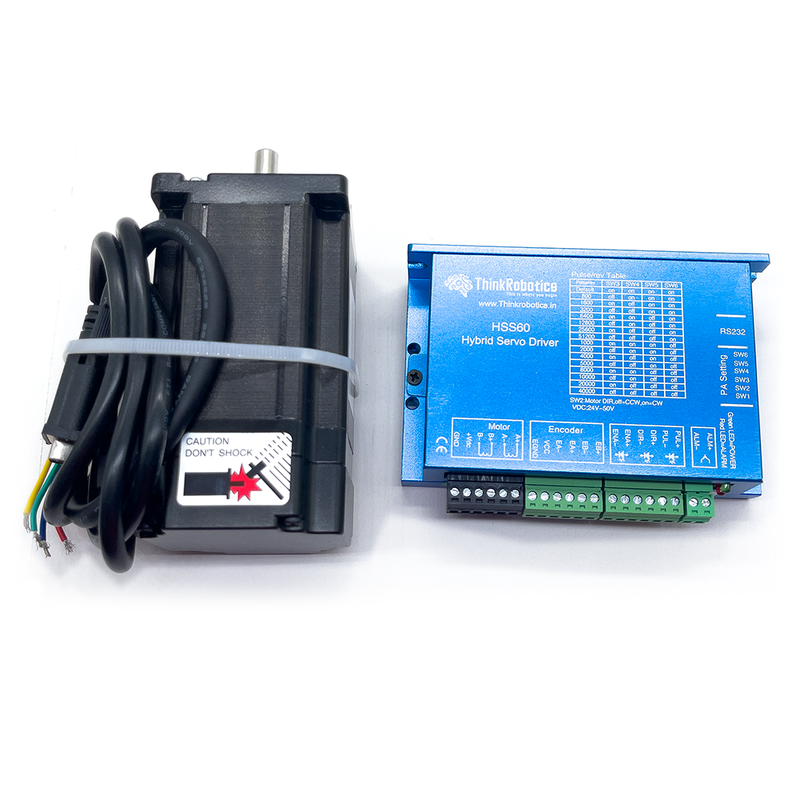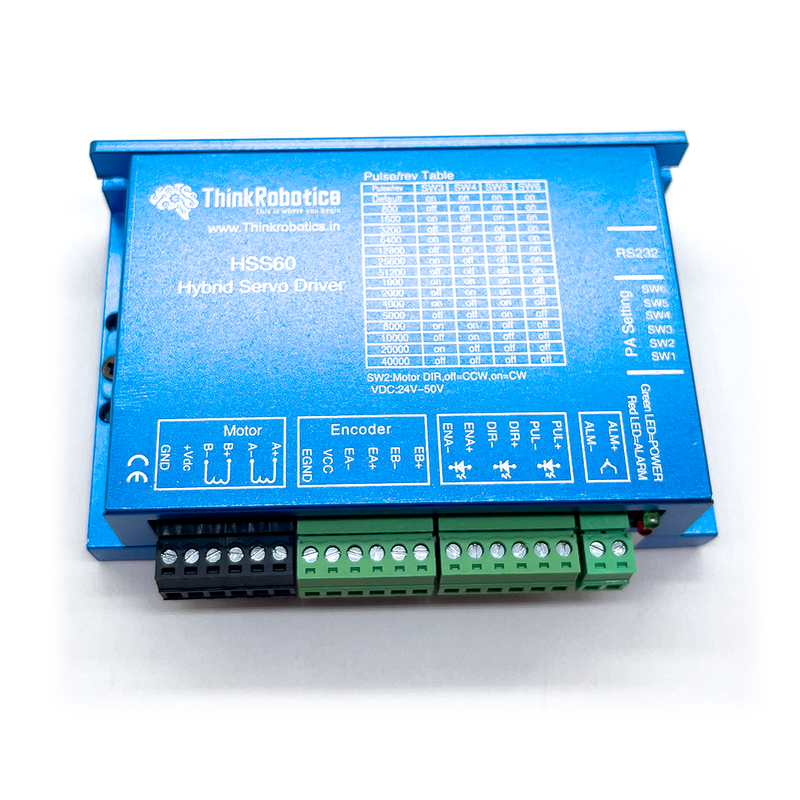 NEMA 24 EASY SERVO MOTOR & DRIVER
NEMA 24 closed loop stepper motor as the controlled output returns to the control input in a certain way and exerts control influence on the input. The closed-loop control of the stepper motor uses position feedback or speed feedback to determine the phase conversion corresponding to the rotor position, which can greatly improve the performance of the stepping motor. These motors are also called Easy Servo Motors.
Motor Parameters:

Model: 60

HSE3N-D25



Step Angle: 

1.8

°

Rated Current: 5.0A
Rated Voltage: 2.25VDC
Phase Resistance: 0.45 ± 10%Ω
Phase Inductance: 1.8 ± 20%mH
Holding Torque: 3 N.m 
Surface Treatment: Black Electrophoresis
Dielectric Strength: 500VAC / 5mA / 1min
Insulation Resistance: ≥100M Ω / 500VDC
Insulation: Class B
Motor Length: 76mm
Total Length: 97mm
Encoder Resolution: 1000 pulse per rotation
Shaft Radial Play 0.02Max.(450g-load)
Shaft Axial Play 0.08Max.(450g-load)
Weight: 1.55kg
Torque/Frequency Curve
Remark: black curve is NEMA24 standard stepper motor torque curve, red curve is NEMA24 closed loop torque curve.
DRIVER DIMENSIONS
WIRING DIAGRAM
Driver HSS60 Features:
Position error correction and never lose steps
Quick response and perfect acceleration, High torque at high speed
Automatic current adjustment based on load, lower temperature rising
Over-current, over-voltage and position ultra difference protection function
Pulses response frequency can reach 200KHZ
16 kinds microsteps choice, highest 51200microsteps/rev.
Drive NEMA 24 series 3N.m closed loop stepper motor
Voltage range: DC24V~50V
Microstep selection:
| | | | | |
| --- | --- | --- | --- | --- |
| Micorstep/rev | SW3 | SW4 | SW5 | SW6 |
| Default(400) | on | on | on | on |
| 800 | off | on | on | on |
| 1600 | on | off | on | on |
| 3200 | off | off | on | on |
| 6400 | on | on | off | on |
| 12800 | off | on | off | on |
| 25600 | on | off | off | on |
| 51200 | off | off | off | on |
| 1000 | on | on | on | off |
| 2000 | off | on | on | off |
| 4000 | on | off | on | off |
| 5000 | off | off | on | off |
| 8000 | on | on | off | off |
| 10000 | off | on | off | off |
| 20000 | on | off | off | off |
| 40000 | off | off | off | off |