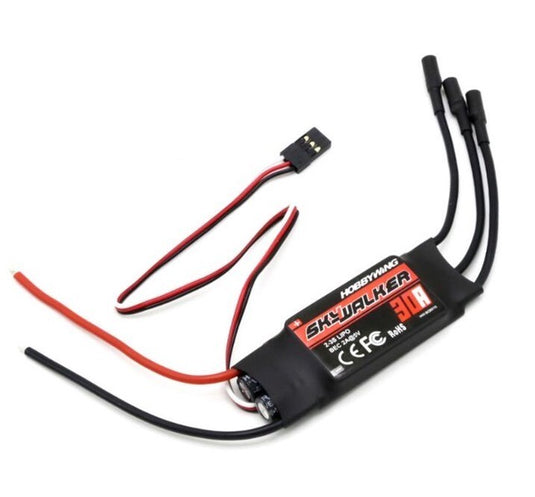 Hobbywing SKYWALKER 2-3S 30A Electric Speed Control ESC with BEC
The SKYWALKER Series ESCs are produced by well known manufacturer Hobbywing, this series originally only supply to other RC factories like aeroplane manufacturers as a part of the RTF kits, so this series feature low cost yet still reliable as other series made by Hobbywing. They are produced under same standard.
Features
Safety arming feature: Regardless the throttle stick position, the motor will not spin after battery connected
Throttle calibration function: Throttle range can be calibrated to be compatible with different transmitters
Multiple program methods supported: transmitter stick, LED Program Card. Very easy to program the ESC at home or at the flying field
Full protection: Low voltage cutoff protection / Over-heat protection / Throttle signal loss protection

Compatible with Lipo and NiMH battery.

Timing can be changed to be suitable for different brushless motors.
Specifications
Skywalker 30A ESC (2-3S)

Input: 2 to 3 Li-Po, or 4 to 10 Ni-MH/Ni-Cd
BEC: Yes, 2A / 5V
Max Current: 40 A (for ten seconds)
Constant Current:30A
Size:68 x25 x8 mm
Weight: 37g

Skywalker 40A ESC (2-3S)

Input: 2 to 3 Li-Po, or 4 to 10 Ni-MH/Ni-Cd
BEC: Yes, 2A / 5V
Max Current: 55A (for ten seconds)
Constant Current:40A
Size:68 x25 x8 mm
Weight: 35g

Package Contains: 1x HobbyWing Skywalker ESC