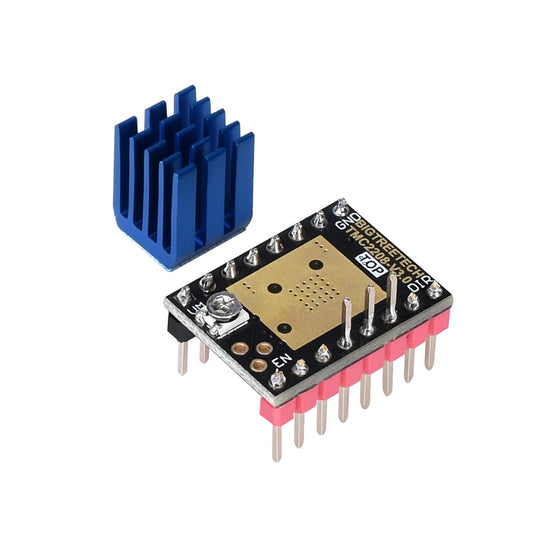 This module is based on TMC2208 that is an ultra-quiet two-phase stepper motor driver chip. It offers continuous drive current 1.4A, peak current 2A and voltage range of 5.5V-36V, 256 subdivisions. The flexible microlayer interpolation unit provides up to 256 subdivisions, allowing perfect sinusoidal control even in systems with limited pulse frequencies.

The TMC2208 covers a wide spectrum of applications from battery systems to embedded applications with up to 2A motor current per coil.

It is compatible with existing 3D printer electronics, eliminating the expensive costs of the redesign with a standard STEP/DIR interface that facilitate the usage. Most advanced STEP/DIR stepper motor driver family upgrades design to the most precise operation for cost-effective and highly competitive solutions.
It can replace the original TMC2100 and decrease the heat, especially for the 3D printing market. Application tuning can be specifically stored to OTP memory. Standby current reduction keeps costs for power dissipation and cooling down.
We also have a UART version available.
Features:
Main Chip: TMC2208
Channel: 2 Channels
Native Micro steps: up to 1/256
Micro steps: 1/256
Logic Voltage (VIO): 3V ~ 5V
Motor Voltage (VM): 5.5V ~ 36V
Motor Phase Current max: 1.2A RMS, 2.0A Peak
Internal V- Regulator: enabled
RDSon: <=0.3 Ohm
Pin Number: 16 Pins
Interface: CFG Pins, UART
Pin Description:
Power Supply

GND: Ground
VM: Motor Supply Voltage
VIO: Logic Supply Voltage

Motor Outputs

M1A: Motor Coil 1
M1B: Motor Coil 1
M2A: Motor Coil 2
M2B: Motor Coil 2

Control Inputs

STEP: Step-Signal Input
DIR: Direction-Signal Input
EN: Enable Motor Outputs: GND=on, VIO=off
MS1: Step-Configuration
MS2: Step-Configuration
PDN: UART and Auto Power Down Control: GND=on, VIO=off
CLK: Clock Input
DIAG: Diagnostics Output
INDEX: Index Output
VREF: Analog Reference Voltage
Package Include:
1x TMC2208 Stepper Driver Module
1x Heatsink