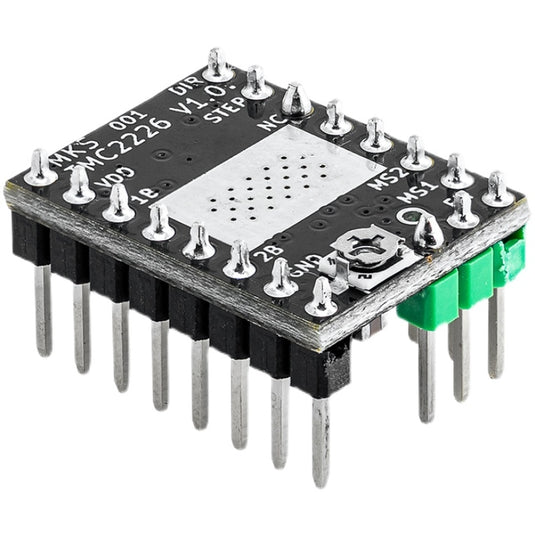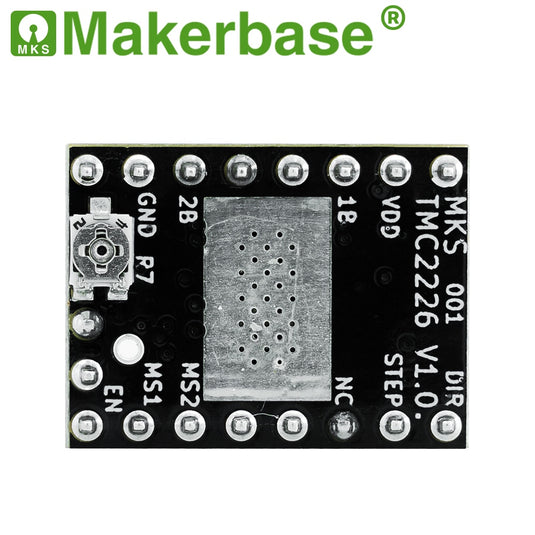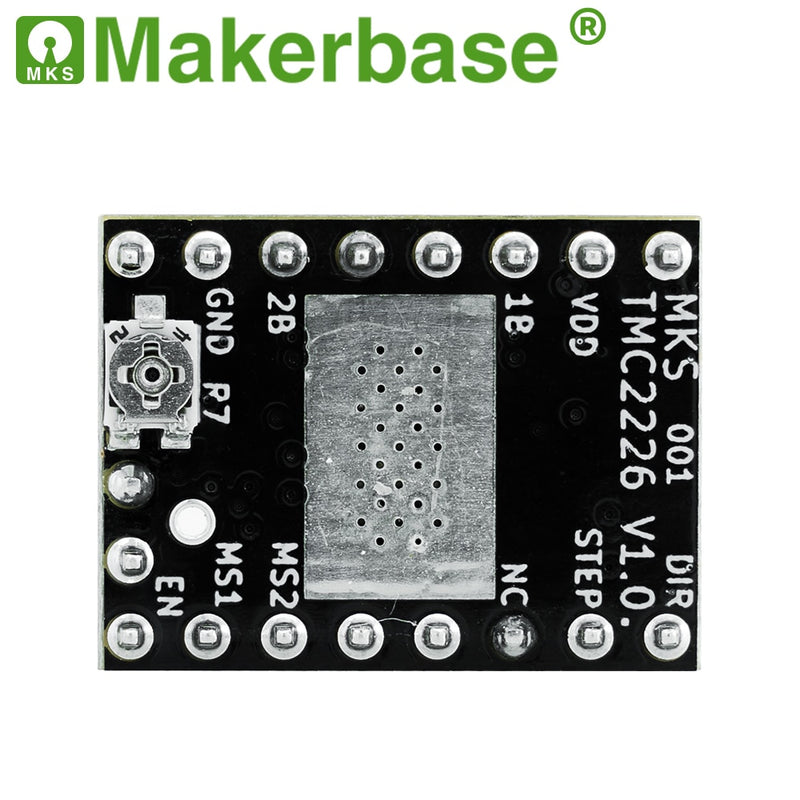 The MKS TMC2226 is a low noise, high current ability, UART mode supported, sensorless homing stepper driver in the same packaging as the standard step stick drivers like the A4988.  The driver is powered by the TMC2226 chip which is designed and manufactured by Trinamic in Germany.  This chip is the upgrade to the popular TMC2209 and TMC2225 drivers.
Specifications:
Stepper Driver Model: TMC2226
Maximum Current: 2.5A
Micro Stepping: Up to 64 micro stepping
UART mode supported
Sensorless homing supported
Large heat sink included for proper heat dissipation 
The TMC2226 is an ultra-silent motor driver IC for two phase stepper motors. TRINAMICs sophisticated StealthChop2 chopper ensures noiseless operation, maximum efficiency and best motor torque. Its fast current regulation and optional combination with SpreadCycle allow highly dynamic motion while adding. StallGuard for sensorless homing. The integrated power MOSFETs handle motor currents up to 2A RMS with protection and diagnostic features for robust and reliable operation. A simple to use UART interface opens up tuning and control options. Store application tuning to OTP memory. Industries' most advanced STEP/DIR stepper motor driver family upgrades designs to noiseless and most precise operation for cost-effective and highly competitive solutions.
Features
2-phase stepper motors up to 2.8A coil current (peak), 2A RMS
STEP/DIR Interface with 8, 16, 32 or 64 microstep pin setting
Smooth Running 256 microsteps by MicroPlyer™ interpolation
StealthChop2™ silent motor operation
SpreadCycle™ highly dynamic motor control chopper
StallGuard4™ load and stall detection for StealthChop
CoolStep™ current control for energy savings up to 75%
Low RDSon, Low Heat-Up LS 170mΩ & HS 170mΩ (typ. at 25°C)
Voltage Range 4.75… 29V DC
Low Power Standby to fit standby energy regulations
Internal Sense Resistor option (no sense resistors required)
Passive Braking, Freewheeling, and automatic power down
Single Wire UART & OTP for advanced configuration options
Integrated Pulse Generator for standalone motion
Technical Specifications
| Model | TMC2226 |
| --- | --- |
| Interface | Step/Dir |
| Configuration | CFG Pins or UART |
| Native Microsteps | up to 1/256 |
| microPlyer Microsteps | 1/256 |
| Logic Voltage (VIO) | 3-5V |
| Motor Voltage (VM) | 4..75-29V |
| Motor Phase Current max | 2A RMS, 2.8A Peak |
| Internal V- Regulator | enabled |
| RDSon | <=0.17 Ohm |
| stealthChop (quiet) | yes |
| spreadCycle | yes |
| coolStep | yes |
| stallGuard | yes |
| dcStep | no |