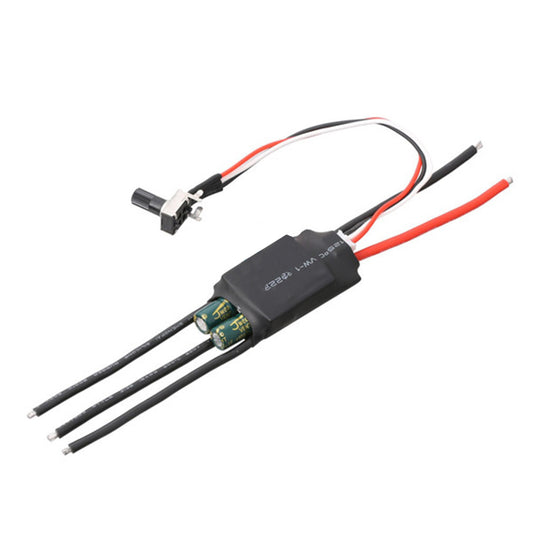 DC 7-24V 200W BLDC 3-Phase Brushless Motor Driver With Potentiometer
ESC is specially developed and designed for industrial control of electric tools such as air pumps, water pumps, oil pumps, fans, etc. that use DC three-phase brushless motors. It can operate for a long time with low power requirements and intermittently with medium to high power requirements.
When the ESC's external heat dissipation conditions are poor and the temperature exceeds 100 degrees, the power will be automatically reduced, and the temperature will return to normal when it drops below 100 degrees.
Features:
Model: X30A (potentiometer)
Working voltage: 7-24V
Drive current: rated 15A and 20A with fan cooling
Maximum speed: 224000 RPM (2 pole motor), 74000 RPM (6 pole motor), 40000 RPM (12 pole motor), 35000 RPM (14 pole motor).
Product size: 45mm X 26mm X 12mm (excluding wires and protruding capacitors)
Precautions:
There is no fuse in the power supply circuit on the motherboard. Reverse connection of the positive and negative poles of the power supply will cause permanent damage to some of the chips on the board.
There is motor blocking protection during normal operation. Because the power and current of the module are large, please do not artificially short-circuit when the module is not working normally. Once the lines are shorted, it may burn the line and the tube may burst
Do not connect the motor that is obviously inconsistent with the drive module voltage, current, or power, to avoid inexplicable "nonsensical" damage
 Connections:
U V W phase line output is connected to the motor
VCC GND main power supply (external DC power supply)
NOTE: This item is non-returnable due to the high power applications it is used for.